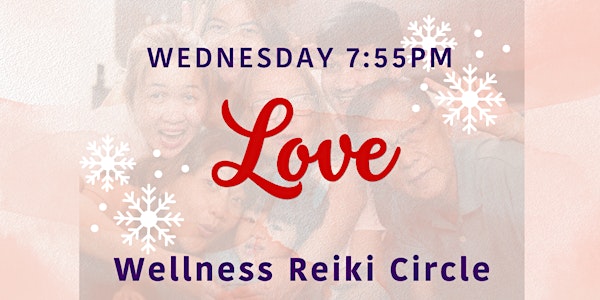 Wellness Reiki Circle Love edition
A powerful healing experience. You will welcome the flow of energy through your body with the goal of achieving physical or mental healing.
Refund Policy
Contact the organizer to request a refund.
About this event
We began this year with focus.
Then brought clarity.
Which gave us confidence.
Then worked on balance.
And finally we will conclude with LOVE.
Don't worry, love is for everyone. It really is.
But we will begin by loving ourself more than we did yesterday.
What is a Reiki Circle?
It's a powerful group healing experience. With a Reiki Master as your guide, you will participate by welcoming the flow of Reiki through your body with the goal of achieving physical or mental healing.
So how will the Wellness Reiki Circle increase self love? By creating a habit that you can fall back to anywhere, anytime. By the end of a session*, you may notice that you're able to:
- Feel elevated energy levels
- Experience deeper relaxation when you need to
- Focus on things you have
- Allow feelings of gratitude to always be with you
*Healing benefits are not guaranteed after one session. We highly recommend attending all sessions in the series for best results. While you may notice small changes after joining once or twice, it's important to understand that lasting results take time and commitment.
Ready to experience the power of group healing? Join us every Wednesday at 7:55pm for a 40-minutes group healing you won't want to miss.
Here's what past participants have said about the Reiki Circle:
"A really powerful experience when doing Reiki with others."
"I love to just do NOTHING."
"I begin the session feeling really tired and almost every time, come out rejuvenated!"