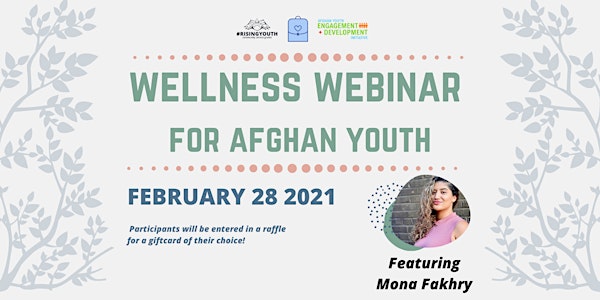 Wellness Webinar For Afghan Youth
Learn more about mental wellbeing in the Afghan community and strategies to increase mindfulness!
About this event
In this zoom event, child development consultant & Afghan-Canadian generational healing advocate Mona Fakhry will be leading youth in a seminar focused on mental wellness! Check out her social media platform for more information about her! (instagram: mindfully_mona)
The goal of this seminar is to help Afghan youth understand mental health, and leave youth with a "tool kit" of coping strategies for wellbeing. Participants will be entered in a gift-card raffle to a store of their choice!
This event is being brought to you by The School Bag Project: Project Bloom. Project Bloom is an initiative to encourage mental health discussion in the Afghan Community. This project is generously supported by #RisingYouth (https://www.risingyouth.ca/) and Afghan Youth Engagement and Development Initiative (AYEDI, https://ayedi.ca/).
Check out more about us on our website: www.theschoolbagproject.com, or social media (instagram: theschoolbagproject2020, twitter: SchoolBagProj).
Email theschoolbagproject2020@gmail.com if you have any questions!