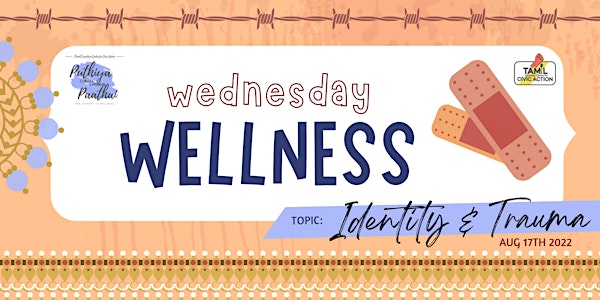 Wellness Wednesday Educational Seminar - Intergenerational Trauma
Join us for TCCCA's Puthiya Paathai's 2nd Wednesday Wellness educational seminar on Intergenerational Trauma on August 17th from 5 - 6 pm
About this event
For the month of August, TCCCA is running its Puthiya Paathai mental health awareness campaign dedicated to destigmatizing mental health and raising awareness of mental health within the Tamil community. Join us for our second of four Wellness Wednesday educational seminars each covering different mental health topics.
Our second educational seminar, "Intergenerational Trauma", will delve into the healing of Tamil generational trauma and discovering your identity. This educational seminar will be happening on Wednesday August 17th @ 5PM via the Zoom link sent to your registered email. Volunteer hours will be provided for high school students attendance and engagement.
We will have guest speaker Abarna Selvarajah joining us to facilitate this session. Abarna Selvarajah (she/her) is a student-researcher, facilitator, and activist whose community-based research examines the intersections of gender, immigration, and displacement. She is an experienced public speaker, educator and researcher who is grounded in values of community care and learning together. She holds a Joint Honours Bachelor degree from the University of Ottawa and is pursuing a Masters of Arts in Social Justice Education from OISE at the University of Toronto.