Description
What is Reach for Resiliency™?
Reach for Resiliency [R4R] is a unique and novel approach to building mental wellbeing and foundational resiliency in a proactive manner. R4R is the result of years of training and research and is based on 3 theories and models that are evidence-based.
This event offers R4R-1 and R4R-2.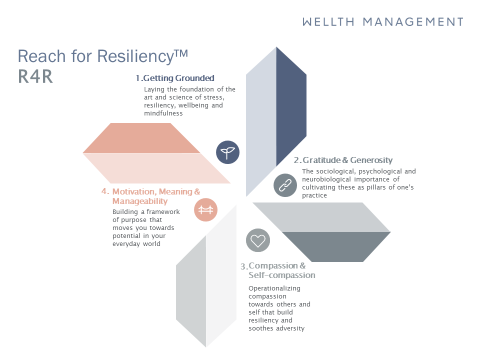 R4R has been well received in Toronto and several EMS services and one post-secondary program has adopted R4R as part of their training for first responders.
R4R is a certificate program that consists of four 4-hour workshops that are done over 3 months to a year to help participants develop a meaningful practice.
R4R is a universal approach and can be taken by anyone interested in understanding how to embed compassionate-based mindfulness theory into your everyday activities to promote wellbeing.
Who should attend?
This event in Calgary is the inaugural introduction of R4R and we are targeting first responders in the area: Paramedic, Fire, Police, RCMP, Military, Dispatch/Communications and Corrections are encouraged to participate.
Date:
Thursday May 3, 2018
Time:
8:00 am to 5:00 pm
Location:
Ruberto Ostberg Gallery
2108 18 Street
NW Calgary
We are excited to offer you a beautiful venue at this art gallery. Our thanks to Anna Osterberg for allowing us to use this space for this special event.
Catering:
We are proud to be partnered with Billy Owens, Pitmaster & CEO of Four Directions BBQ. Your lunch (meat + vegetarian options) is included in your ticket price.
Billy served the city of Calgary for many years as a paramedic himself and now cares for others through the preparation and serving of carefully prepared foods. He is well known for his slow cooked/high quality bison, beef and pork.
Coffee & tea will be provided during the session.
What to wear:
You are welcome to come business casual, which should also be comfortable.
Parking:
There is ample parking around this venue.
Facilitator:
Wendy Lund, the founder and CEO of Wellth Management Inc., will be your lead for the day.
With over 32 years as a RN and faculty member in Health Studies, Wendy brings a wealth of knowledge about health and disease to R4R. As the science lead in the Paramedic program in Toronto, Wendy is able to translate the neuroscience of what we now know about how our minds work with stress and wellness strategies.
Wendy just completed 4 years of graduate studies where she conducted a large descriptive qualitative study that investigated the experience of trauma in first responders. Her MSc in Mindfulness Studies makes her one of about 40 people in the world with this degree.
R4R is based on three theories and models and brings novel and timely strategies to help us deal with adversity and trauma in our lives.
Please visit: www.wellthmanagement.ca. You can follow Wendy at @WLund100 or @WorkWithHeartWM on Twitter. She can be reached at: wendy@wellthmanangement.ca
Special Considerations:
R4R is recognized for continuing competence credits.
Please consider investigating Professional Development funds that might be available through your organization and/or union or as part of your health insurance with benefits.