West African Dance with Lua Shayenne and Collette 'Miss Coco' Murray
Yensa Festival invites you to explore West African Dance with Lua Shayenne and Collette "Miss Coco" Murray
When and where
Location
Daniels Spectrum, Ada Slaight Hall 585 Dundas St E Toronto, ON M5A 2B7 Canada
Refund Policy
Refunds up to 7 days before event
Eventbrite's fee is nonrefundable.
About this event
Collette "Miss Coco" Murray's ARTISTIC PRACTICE IS is about centering culture, identity, artform, and community within African and Caribbean arts and dance genres. While uncovering African diasporic knowledge production and systems, I create arts-based experiences to bring a culturally relevant and culturally responsive understanding within a contemporary moment and time. Afro-Indigenous epistemologies carry holistic values and meaning-making that impacts the entire person. All dance students can benefit from enlivened dance heritages and futurities of communities of color.
Lua Shayenne's artistic practice is embedded in her cultural roots and her spiritual beliefs. She is continuously investigating and incorporating the practice of Seselelame (Southern Ghana) and studying the Baha'i Writings where art is "a gateway into spiritual worlds". Seselelame - literally means "feel feel at flesh inside" - expands beyond the 5 senses and kinesthesia and expresses one wholesome state of being. Her goal is to "effect (bring about) a spiritual conquest" by establishing a relation with the human hearts and create art that is original but preserves the authentic spirit of my culture and Faith. Her art is a spiritual practice in service to her community and a channel for presenting contemporary narratives and preserving tradition. "Tradition, to me, is not to blindly imitate my ancestors and forefathers but to discover for myself the "reality of things". " says Lua.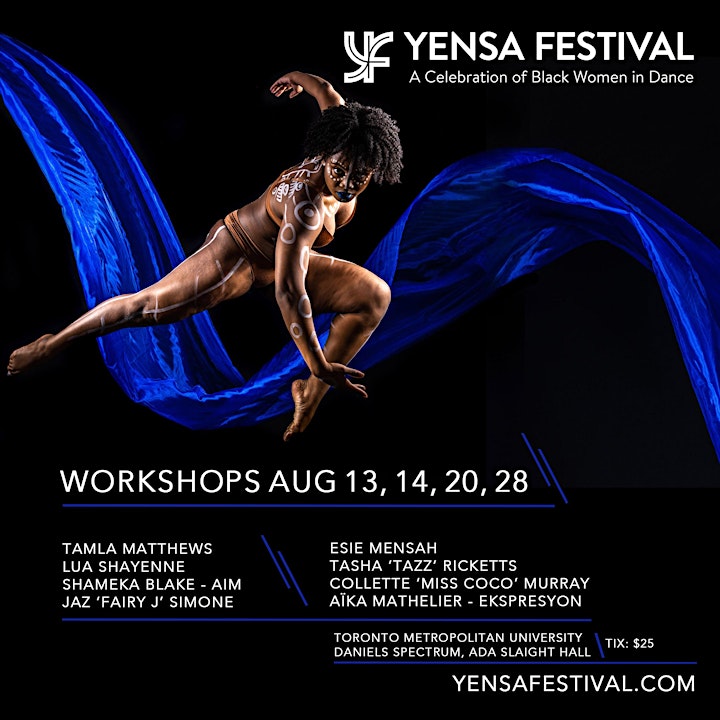 Collette "Miss Coco" Murray is a dance educator, cultural arts programmer and arts consultant. This award- winning artist was one of 100 Accomplished Black Canadian Women honourees in 2020 and the 2019 Toronto Arts Foundation's Community Arts Award winner. Murray pursues a PhD in Dance Studies and holds a Master of Education, and Honours BA in Race, Ethnicity and Indigeneity from York University and a BA in Sociology from University of Toronto. Along with Miss Coco Murray, her mobile, dance education business, she is Artistic Director of Coco Collective offering culturally responsive projects connecting participants, organizations and schools to African and Caribbean arts. Recent projects include Toronto Dance Theatre's RBC Pilot Episodes and Art Etobicoke's Augmented Reality in Islington Village for ArtWorxTO's Public Year of Art. As board member of Canadian Dance Assembly, Arts Etobicoke and Board Vice Chair for Dance Umbrella of Ontario, Murray uses an anti-racism, equity and diversity lens.
Lua Shayenne weaves stories, through dance, song and word. Her art practice is embedded in her African roots and her Faith. Her goal is to "effect a spiritual conquest" by establishing a relation with the human hearts and create original, inspiring and relevant art.A 2016/17/18 K.M. Hunter Dance award nominee and a recipient of the 2013 BMO seeds Fund Award for Artists working in community, Lua is the creator and interpreter of the dance theatre children series titled, Tales and Dances Around the Baobab of which Yassama and The Beaded Calabash, is the fourth tale. Lua is the artistic director of Dora nominated, Lua Shayenne Dance Company (LSDC). LSDC blends dance, music and storytelling rooted in West African culture with contemporary art forms and social commentary. Lua is currently creating WAVES | VAGUES and FRONTIERS | FRONTIÈRES for LSDC. Through LSDC, Lua has also launched YENSA Festival – a biennal festival that celebrates women in dance.Performing highlights include HOLOSCENES tours in the US, UK, Abu Dhabi & Australia, Été au Théâtre in Italy, Fall for Dance North, Luminato, Dusk Dances, d:mic and more.Lua teaches at Toronto Metropolitan University's dance program and brings African dance, music, storytelling and culture to grassroots organizations and schools all over Canada and Europe.Luashayenne.com | lG/FB: Luashayenne