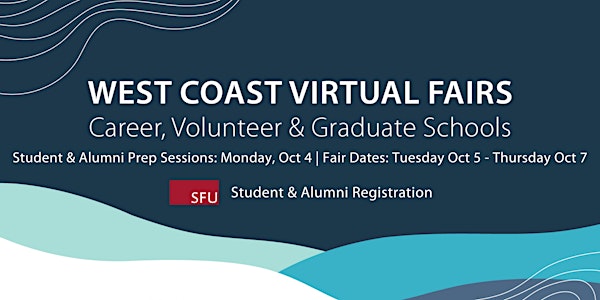 West Coast Virtual Fairs (Fall 2021) - Student & Alumni Registration
Register for the West Coast Virtual Fair and pre-event preparation programs!
About this event
This registration is intended for SFU students and alumni only.
* You will receive emails with the virtual fair platform login instructions and meeting link to the pre-event sessions closer to the dates. *
Preparation Events
Live Panels, Workshops & Demo on Mon, Oct 4
On Monday, October 4, we are offering a series of virtual events to help you get ready for the fair:
Employer Panel: Work Search Post Pandemic [11AM-12PM, Zoom]
Grad School Panel: Ace Your Grad School Application [12:30PM-1:30PM, Zoom]
Live Demo: Navigate the Fair [2PM-3PM, Zoom]
Workshop: Network Like a Pro [3:30PM-4:30PM, Zoom]
Career, Volunteer & Grad School Fairs
Bookings begin Mon, Sep 27 | Sessions on Tue, Oct 5 to Thu, Oct 7
At this fair, you can interact with an exhibitor only if you have a pre-booked a 1-on-1 or group session. Starting on Mon, Sept 27, you can log onto the fair platform to create your profile, browse through exhibitor booths from 225+ organizations and book sessions with your favourite organizations (up to ten sessions till Oct 4 and unlimited after this date). Exhibitor sessions are limited. Sign in early to secure your spots!
All exhibitor sessions will take place between 11AM-4PM on Tuesday, October 5 to Thursday, October 7. Remember to log onto the platform to access your booked sessions.
For more information such as list of exhibitors and tips on how to work the fair, please visit our website.
Why Should You Attend the Fair
Discover career and co-op positions, seasonal jobs, and/or volunteer opportunities from a wide variety of sectors.
Practice networking with recruiters from different companies and organizations.
Reduce the time spent on searching for opportunities by attending one fair with hundreds of employers and graduate schools.
What to Expect at the Fair
Visit exhibitor booths to learn more about their organizations and their opportunities.
1-on-1 sessions: Enjoy 15-minute private conversations with recruiters using the video conferencing tool embedded in the platform.
Group Sessions: Join recruiters for group info sessions with other students.
Receive live support from our Career Education Specialists and Career Peers.
Special Thanks to Our Event Sponsors: