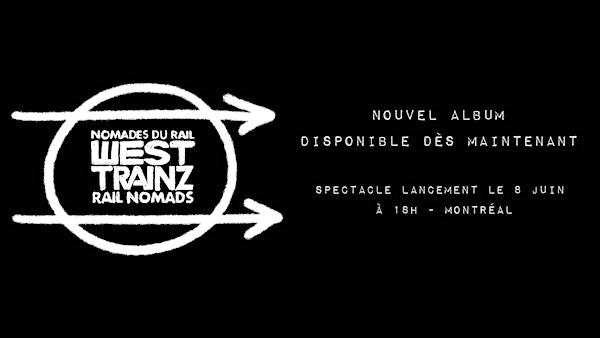 West Trainz - Lancement spectacle de "Rail Nomads"
West Trainz lance son nouvel album "Rail Nomads"!
By L-A be | Let Artists be
Date and time
Thursday, June 8 · 6 - 9pm EDT
Location
La Boîte Culturelle 5669 Av. Papineau Montreal, QC H2G 2W2 Canada
About this event
Autour du feu de leur "hobojungle" caché dans un recoin de la gare de triage où ils travaillent, deux cheminots mélomanes attendent des amis nomades du rail pour fêter leurs retrouvailles. Du Canada jusqu'au Mexique, le nouveau spectacle de West Trainz vous embarque sur une grande traversée de l'Amérique du Nord guidée par les Hobos, les Tramps, les Rail Bums et cheminots. Un véritable voyage musical empreint de poésie et de liberté relatant 150 ans d'histoires insolites qui ont forgé la société moderne.
Trame musicale originale d'Erik West Millette et Olaf Gundel.
Mise en scène de Pascale Bussières et visuels par Yves Archambault.
John McColgan aux percussions et Santosh Lalonde à la voix et multi-instruments.