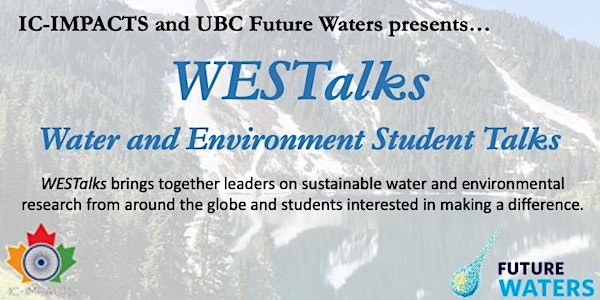 WESTalks global water discussion presented by IC-IMPACTS/ UBC Future Waters
WESTalks Global Water Seminar
About this event
WESTalks is a collaborative initiative by IC-IMPACTS and the University of British Columbia's Future Waters group. Since June 2020 WESTalks has been a weekly virtual seminar series, now with over 500 registered participants from 35 countries from universities across Canada and the World. The aim of WESTalks is to crate a space for discussions around all water-related topics, and to unite global audiences with rich cultural and academic diversity. Topics range from water and wastewater treatment, green engineering, treatment for developing nations and water policy and governance.
Details on the talks:
• 09:00 am Thursdays (Pacific time, in Vancouver, Canada), every second week starting September 23rd, 2021
• 20-30 minute presentation over Zoom
• 10-15 minutes of audience questions, curated by the moderator
• Recorded and posted to the WESTalks Youtube
Previous WESTalks are available on YouTube: https://www.youtube.com/channel/UCwkBqiy4GvQjlDiOszD3K-A/search?query=westalks
Speakers, past and upcoming:
Winter/ Spring 2022:
Jan 13, 2022: Dr. Cresten Mansfeld, UC Boulder - Deciphering Waste: the Management and Informative Power of Microbial and Chemical Wastewater Constituents.
Jan 27, 2022: Dr. Nirupam Aich, Univ. Buffalo - Sustainable Materials for Advanced WateR Treatment (SMART) in the 2020s
Feb 10, 2022: Dr. Jessica Ray, Univ. Washington - Resource recovery from wastewater
Feb 24, 2022: Dr. Jeseth Delgado Vela, Howard Univ. - How I learned to stop worrying and love the biofilm
Mar 10, 2022: Dr. Joe Goodwill, Univ. of Rhode Island - Moving Beyond Resilience by Considering Antifragility in Potable Water Systems
Mar 24, 2022: Dr. Caitlyn Butler , Univ. Mass. Amherst - Heterogeneous Diffusion of Nanoparticles in Biofilms
Apr 21, 2022: Dr. Jenny Zenobio, UC Irvine - PFAS treatment strategies
May 5, 2022: Dr. Jan Adamowski, McGill Univ. - **postponed
May 19, 2022: Dr. Pranav Chintalapati, UC Boulder/ UBC - Applying the Systems Lens to Rural Water Service Delivery
May 26, 2022: Dr. Colleen Naughton, UC Merced - COVIDPoops19 and Beyond: Origin, Evolution, and Equity
Jun 2, 2022: Dr. David Weissbrodt, TU Delft, Elucidating and engineering microbiomes to valorize exopolymers from wastewater
Fall 2021:
Sept 23, 2021: Dr. Andrew Jones, Duke University - Biofilm structures under stress in water systems
Oct 7, 2021: Dr. Michael Bentel, Clemson University - Chemical destruction of aqueous per- and poly-fluoroalkyl substances (PFAS): Are PFAS truly "forever chemicals"?
Oct 21, 2021: **postponed**
Nov 4, 2021: Dr. Maura Allaire, UC Irvine - Water Equity and Compliance with Drinking Water Standards
Nov 18, 2021: Dr Ilan Adler, Univ. College London - Rainwater Harvesting in Practice
Dec 2, 2021: Dr. Monica Elmenko, Univ. Waterloo - Techno-Ecological Approaches for Treatment Resilience and Drinking Water Security in a Changing Climate
Dec 16, 2021: Dr. Alexandra Cassivi, Univ. Laval - Access to water supply and domestic hygiene in remote northern communities
Spring/ Summer 2021:
04-Mar-21: Dr. Megan Mauter, Stanford University - Water sector electrification: System-level benefits and process-level challenges.
11-Mar-21: Dr. Peter Back, Eawag: Transitioning to Blue Green Cities: Harmonising nature-based approaches with smart urban water management and multi-functional planning.
25-Mar-21: Dr. Linda Strande, Eawag- Innovations in Faecal Sludge Management.
01-Apr-21: Dr. Jane Fowler, Simon Fraser University- Drinking water biofilters: A source of clean water and novel microbial physiologies.
08-Apr-21: Dr. William Tarpeh, Stanford University: Designing Distributed Nitrogen Recovery from Wastewater.
15-Apr-21: Dr. Samantha Black, HDR Inc., Per- and Polyfluoroalkyl Substances in drinking water.
22: Apr-21: Dr. Priti Parekh, University College London, Role of infrastructure including sanitation for human well-being and links with SDGs.
29-Apr-21: Dr. David Latulippe, McMaster University: New insights into the effects of micron-scale microplastics on membrane-based treatment processes.
06-May-21: Dr. Kerry Black, University of Calgary, Tip of the Iceberg - Water, Health, and the Growing Divide in Canadian Indigenous Communities.
13-May-21: Dr. Frederik Hammes, Eawag, Managing unwanted microbial growth in building plumbing systems.
20-May-21: Dr. Bas Vriens, Queen's University, Assessing human imprints on trace metal loads in the Great Lakes.
27-May-21: Dr. Leland Jackson, University of Calgary, Regime shifts in aquatic ecosystems: theory and experimental tests at ecosystem scale..
03-Jun-21: Dr. Ameet Pinto, Georgia Tech, The metabolic landscape of the drinking water microbiome.
Winter 2021
14-Jan-21: Dr. Lutgarde Raskin, University of Michigan, Ann Arbor -Researcher-Utility Partnerships for Advancing Microbial Drinking Water Quality.
21-Jan-21: Dr. Minkyu Park, University of Arizona -Treatment technologies and monitoring strategies for contaminants of emerging concerns (CECs) in potable water reuse.
28-Jan-21: Dr. Mohamed Ateia, Northwestern University - Efficient PFAS Removal by Amine- functionalized Sorbents: Promises & Challenges.
04-Feb-21: Dr. Evan Thomas, University of Colorado, Boulder - Using Feedback to Improve Accountability in Global Environmental Health and Engineering.
11-Feb-21: Dr. Mark van Loosdrecht, TU Delft - Extracellular Polymeric Substances.
18-Feb-21: Dr. Anthony Straub, University of Colorado, Boulder - Putting bubbles to work: Emerging applications of hydrophobic membranes in water treatment and power generation.
25-Feb-21: Dr. Dyllon Randal, University of Cape Town - Urine: The liquid gold of wastewater.
Fall 2020
10-Sep-20: Dr. Elizabeth Tilley, Eawag / University of Malawi - Trash: It's role in sanitation and resource recovery.
17-Sep-20: Dr. Boya Xiong, MIT / U-Minnesota - Peptide enabled material for sustainable waterborne pathogen control.
24-Sep-20: Dr. Bernhard Truffer, Eawag - Sustainability transitions in the urban water sector: the promise of modular technologies from socio-technical perspective.
01-Oct-20: Dr. Onita Basu, Carleton University - Point of Use: A case study in Longido, Tanzania.
08-Oct-20: Dr. Daniel McCurry, University of Southern California - Disinfection Byproduct Formation in Drinking Water and Recycled Wastewater.
15-Oct-20: Dr. Barbara Evans, University of Leeds - Rapid growth and low tax base? Why "engineering" is only part of the solution to urban WASH in the global south.
22-Oct-20: Susan Murcott, MIT - Reimaging Engineering in Service to Populations Vulnerable to Water, Sanitation and Hygiene (WASH), Climate and Planetary Health Impacts.
29-Oct-20: Dr. William Mitch, Stanford University - Which disinfection byproducts matter for potable reuse?
05-Nov-20: Dr. Treavor Boyer , Arizona State University - Ion exchange applications for drinking water and wastewater treatment.
12-Nov-20: Dr. Daniele Lantagne, Tufts University - Water, sanitation, and hygiene in an outbreak response.
19-Nov-20: Dr. Sunil Gupta, Indian Institute of Technology, Indian School of Mines, Dhanbad - Controlling trihalomethane formation in drinking water supply - A case study of India.
03-Dec-20: Dr. Andrew Whelton, Purdue University - Disaster challenges and opportunities – Safely and rapidly recovering drinking water systems.
Summer 2020
09-Jul-20: Dr. Cristoph Luthi, Swiss Federal Institute of Aquatic Sciences: Eawag - Emerging Solutions to Urban Sanitation in the Global South.
16-Jul-20: Prof. Mike Templeton, Imperial CollegeLondon - Pitfalls and Progress: Research to Move Towards Safe and Sustainable Sanitation for All.
23-Jul-20: Dr. Partick Mirindi, WHO - Challenges to reducing waterborne illness in developing communities and how you anticipate these challenges evolving in the coming decade.
30-Jul-20: Dr. Bob Andrews and Mike McKie, University of Toronto - Biofiltration: Where we have been, where we are and where we are going?
07-Aug-20*: SEC Keynote (10:15 AM): Dr. Paul Westerhoff, Arizona Sate University - Modelling influence of upstream wastewater discharges on drinking water facilities.
13-Aug-20: Dr. Menachem Elimelech, Yale University - Next Generation Desalination Membranes: Where are we Now?
20-Aug-20: Dr. Rachel Scholes, UC Berkeley / US Department of Agriculture - Trace Contaminants in Potable Reuse: An RO Concentrate Treatment Perspective.
27-Aug-20: Dr. Emile Cornelissen, KWR Water Research Institute: Netherlands - Membranes Under Pressure: Membranes in Drinking Water Treatment.
For more information and webinar links, please register with your email address.