Wet Felting a Vessel or a Purse, with Instructor Sue Scott
About this Event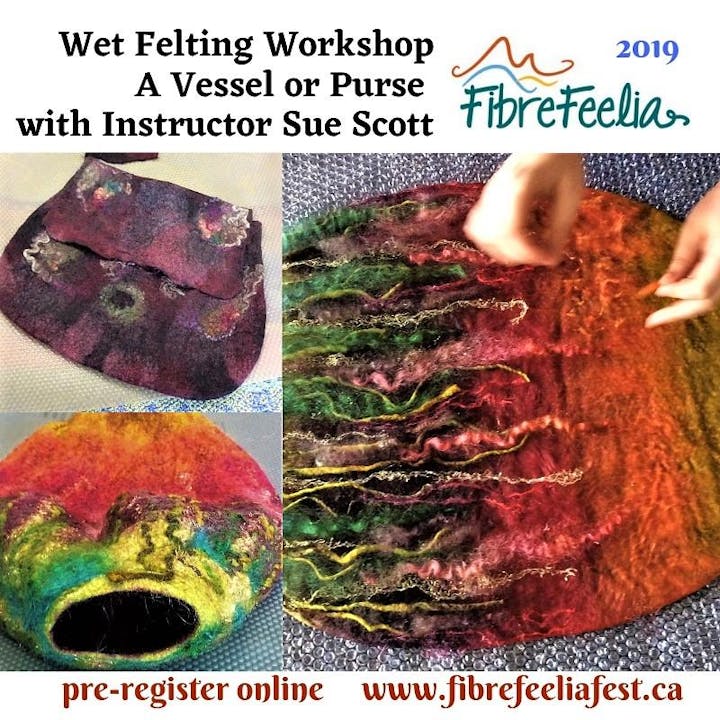 About the Instructor: Sue Scott. A Wet Felt Fibre Artist who specializes in Nuno and Shibori Felting Techniques, which enables her to make unique and beautiful wearable & functional felt. Her inspiration comes from various mediums and nature with a love for color and bringing an idea to life through the felting process.
WHAT TO BRING
2 pieces of Bubble Wrap (minimum 36 inches wide x 24 inches long each piece)
Pool Noodle (we will have a few that students can borrow if you're unable to purchase)
Felting Stone (one will be available at the class)
Old panty- hoes to secure your rolled felt
Ball Sprinkler (one will be available at the class)
Small plastic bowl for soapy water
Sharp Scissors
2 Large old towels
Lunch & Drinks
WHAT WE WILL PROVIDE – KIT FEE $20.00
(Optional if you wish to bring your own)
· Fine Silk Fabric (must be sheer enough to see through to felt)
· Hand Spun Single Ply Tussah Silk
· Merino Wool (Various Colours)
· Raw Silk (e.g. Tussah Silk Top)
· Silk Hankies
· Bamboo Fibre
· Fine or Sheer Ribbon & Yarns
· Various Art Yarns for embellishment
· Small Amount of Pre-Felt
· Various Other Embellishment Materials
WHAT WE WILL PROVIDE – COMPLIMENTARY:
Resist Template for creating your vessel or purse.Various Ribbed Mats for finishing your work.Textured Mat for the final felting stages. Warm Soapy Water, Ball Sprinkler and Felting Stone
NOTE: PLEASE ADVISE WHEN REGISTERING IF YOU REQUIRE A KIT OR NOT
Follow her on Pinterest. We do.