Wetland Conservation in Eastern Vancouver Island: A workshop for municipal and regional stakeholders

Thursday, January 29, 2015 from 9:00 AM to 3:30 PM (PST)
Event Details
Target audience: Municipal and regional staff/stakeholders on Eastern Vancouver Island
Date:             Thursday, January 29th, 2015
Time:            9:00 am to 3:30 pm
Location:    Beban Park Social Centre (Lounge C), 2300 Bowen Rd, Nanaimo BC. V9T3K7
Rationale:  Wetlands can provide a number of benefits to society, including:  flood control, water treatment, and carbon storage.  In addition, approximately 50% of wildlife species require wetlands for part of their lifecycle, and 35% of all rare threatened or endangered species rely on wetland habitat (Wetland Stewardship Partnership, 2010). Despite their importance, wetlands on East Vancouver Island have been lost and degraded from dams, agriculture, urban development and other impacts. Unfortunately, they are still threatened as approximately 2% of natural wetlands were lost between 1995 and 2005 on East Vancouver Island (AXYS Environmental Consulting, 2005).
This workshop will explore relevant themes and issues to help build capacity on how we can protect and conserve wetlands. The following speakers and topics were selected based on communications with key municipal and regional staff and lead conservation groups who are working on Vancouver Island. 
Agenda:  
9:00 – 9:15

Sign in – Coffee/Muffins

 

9:15 – 9:30

Neil Fletcher

Wetland coordinator & chair of the Wetlands Stewardship Partnership, BC Wildlife Federation

 

Introduction and overview of the workshop

9:30 - 9:45

Peter Law

Director, Partnership for water sustainability in BC

 

Partnership:

Overview of the initiative on Convening for Action on Vancouver Island (CAVI) for water sustainability.

9:45 – 10:30

Deborah Curran

UVic Hakai Professor in Environmental Law and Sustainability & Program Director, Environmental Law Centre

Laws and policy:

Municipal and regional tools and requirements for protecting wetlands. This topic will also provide an overview of new content from the2nd edition of the Green by-laws toolkit.

10:30 – 10:45

Break

 

 

10:45 – 11:30

Laura Brophy

Wetland scientist, Institute for Applied Ecology

Wetland prioritization:

Prioritization of wetland restoration opportunities. Laura will present the Oregon method for prioritizing which wetlands to restore and protect, given limited resources. She will describe how to get the information needed for the prioritization, and case studies of how the results are used.

11:30 – 12:15

Jim Dumont

Senior Water Infrastructure Engineer

Stormwater pond and management:

Stormwater management and wetlands. The presentation will cover principals of integrating stormwater ponds, considerations for design, maintenance, and landscape level planning.

12:15 – 1:00

Lunch

 

1:00 – 1:30

Elke Wind

Biologist, E Wind Consulting

Stormwater pond and amphibians:

If you build it, they will come. Intentional or unintentional attraction of amphibians and best management practices.

1:30 – 1:50

Ivy Whitehorne

Coordinator of National Conservation Fund, Canadian Wildlife Service

The National Wetland Conservation Fund and opportunities to access $50million over 5 years.

1:50 – 2:00

Break

 

2:00 – 3:15

Targeted discussion

Overview of the projects planners are working on. Explore the barriers to wetland conservation and restoration in their communities. Strategies to address these barriers.

3:15 – 3:30

Final thoughts and workshop evaluation

 
Email: 

wetlands@bcwf.bc.ca
Tel
: 

 604.970.9707
Toll free
:
 1.888.881.BCWF (2293) ext. 232
This workshop would not be possible without the generous financial support of the following contributors: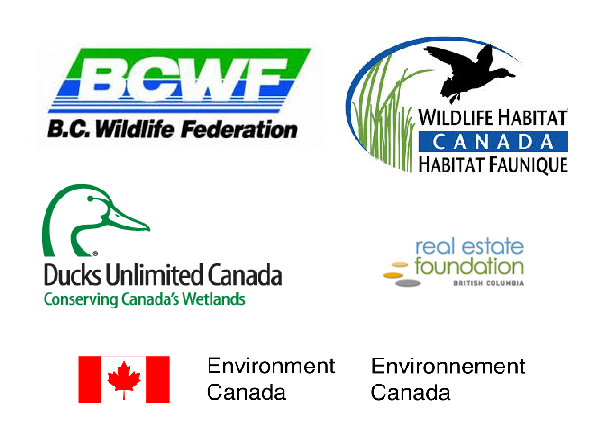 When & Where

Beban Park Social Centre (Lounge C)
2300 Bowen Rd
Nanaimo , BC V9T 3K7
Canada

Thursday, January 29, 2015 from 9:00 AM to 3:30 PM (PST)
Add to my calendar
Organizer
The BC Wildlife Federation's Wetlands Education Program (WEP) helps build the capacity of British Columbian citizens to determine their backyard wetland assets, and increase their community's environmental health using this knowledge.
WEP activities result in habitat restoration, enhancement & conservation through the collaboration of communities, BCWF clubs/members, NGOs, naturalist groups & First Nations.