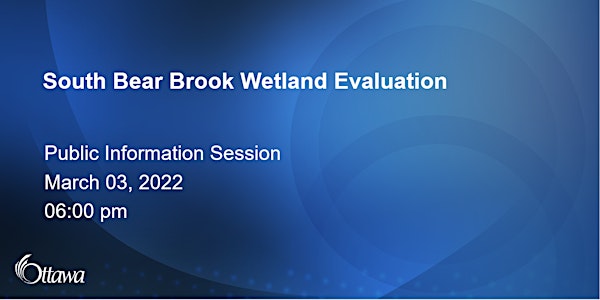 Wetland Evaluation / Évaluation des zones humides South Bear Brook
Public Information Session / Séance d'information publique
About this event
The meeting on Thursday, March 03, 2022, is to present the public with information on the upcoming South Bear Brook wetland evaluation.
For more information you may also wish to consult the Website:
Please note that the zoom link will be provided to all registered participants the morning of the event.
Contact Information:
Nick Stow
Program Manager (A), Natural Systems and Rural Affairs
City of Ottawa
613.580.2424 ext. 13000
ottawa.ca/planning
La réunion du jeudi 03 mars 2022 vise à présenter au public des informations sur la prochaine évaluation des terres humides de South Bear Brook.
Pour plus d'informations, vous pouvez également consulter le site Web :
Veuillez noter que le lien zoom sera fourni à tous les participants inscrits le matin de l'événement.
Coordonnées:
Nick Stow
Urbaniste, Systèmes naturels et Affaires rurales
Ville d'Ottawa
613.580.2424 poste 13000
ottawa.ca/urbanisme