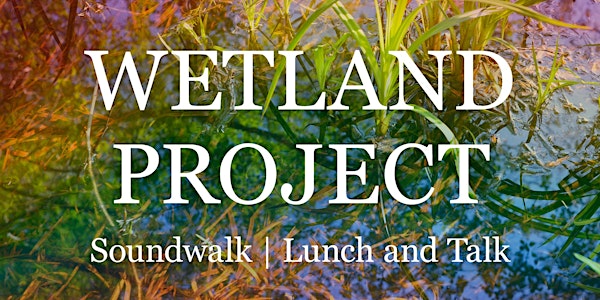 Wetland Project: Soundwalk, Lunch & Talk
By VIVO Media Arts Centre
Date and time
Sun, May 6, 2018 11:00 AM - 3:00 PM PDT
Location
VIVO Media Arts 2625 Kaslo Street Vancouver, BC V5M 3G9 Canada
Description
Wetland Project: Soundwalk, Lunch & Talk

with Brady Marks & Mark Timmings
A co-production between VIVO and Vancouver New Music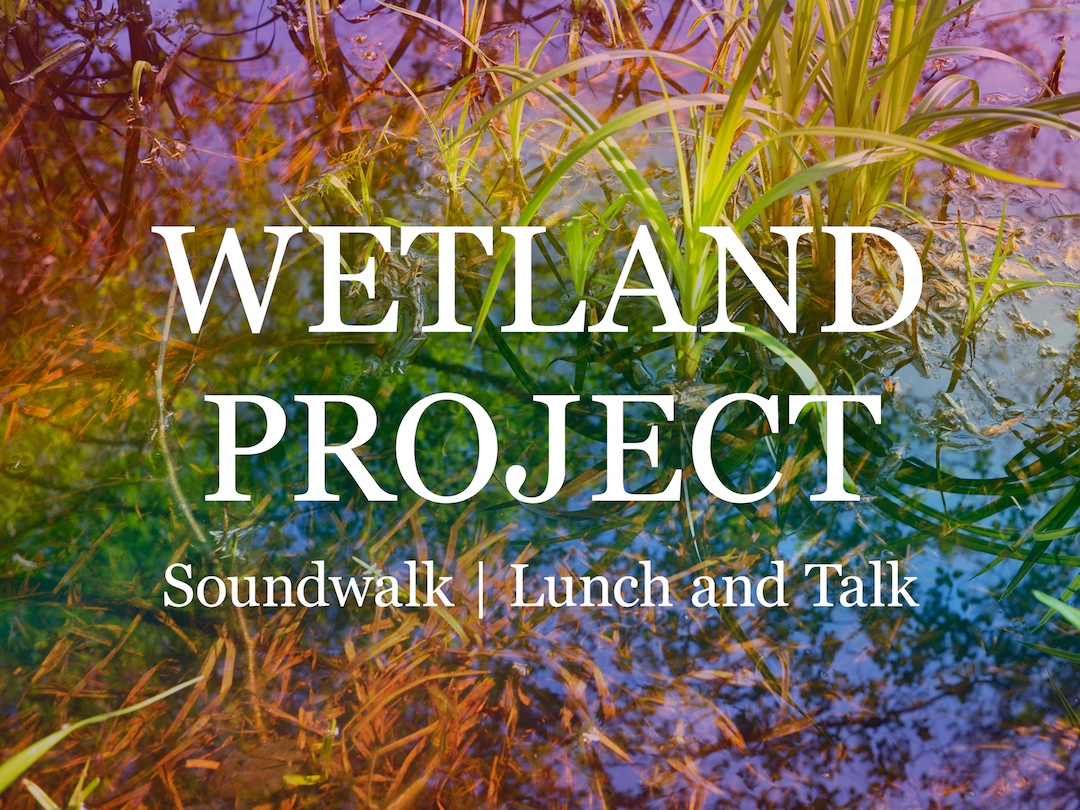 Photo: Nancy Angermeyer
Free event, but please register to help us prepare. Thanks!
Note: There are two ticket types: Soundwalk and Lunch & Talk. Let us know if you're coming to one or the other; or register for both by selecting a ticket for each!
Sunday, May 6
11am: Soundwalk
Sold out. Thanks! The response has been overwhelming! Tickets still available for the Lunch and Talk...
12:30pm: Lunch & Talk
at VIVO Media Arts (2625 Kaslo Street)
Join us for a soundwalk, lunch, and artist talk as part of Wetland Project, an exhibition by Brady Marks and Mark Timmings at VIVO that features a 24-hour long, 5-channel audiovisual installation.

For this free public event, the artists will lead you on a soundwalk through nearby Still Creek, as a way of tuning-in to a local waterway. You'll head back to VIVO, where the audiovisual installation will be running. Lunch will be served. And then the artists will talk about the process of creating the work.

What is a soundwalk? It's a walk with a focus on listening to the environment. Soundwalk participants walk in silence to help listening concentration. Participants then share their listening experiences with each other in a post-walk discussion.
Fun for the whole family!
This event is co-produced by:
Interested in other free soundwalks taking place in the spring?
Check these ones out: https://newmusic.org/spring-soundwalks-april-29-may-13-2018/
---
More about the Wetland Project installation
http://www.vivomediaarts.com/upcoming-events-exhibitions/
To mark Earth Day 2016, Brady Marks travelled to Saturna Island to help fellow artist Mark Timmings capture the sounds of the wetland beside his home. With recording engineer Eric Lamontagne, equipment to make a five-channel, surround-sound recording was set up on a fallen tree at the centre of the marsh. It recorded continuously for twenty-four hours, collecting approximately one terabyte of data. Working with computer programmer Gabrielle Odowichuk, the artists then developed an algorithm that metamorphosed sound frequencies from the wetland recording into pure colour fields based on the spectrum of light. The recording and algorithm are the foundation for the soundscape visualization installation being presented at VIVO.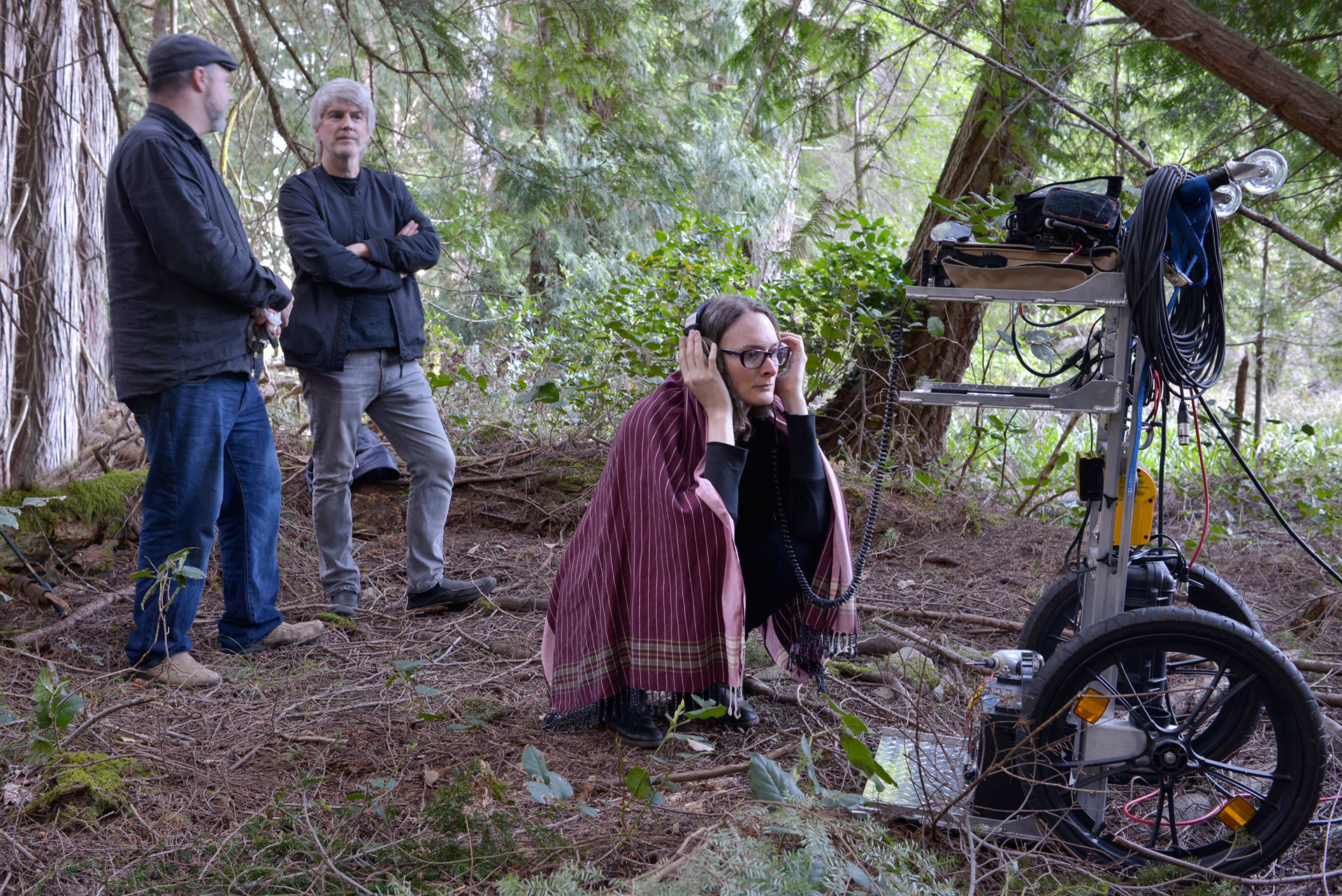 Spectators enter the Wetland installation to witness the unpredictable flow of sounds and colours in a strict correspondence the technology makes possible. The spontaneity and vitality of the wetland creatures are revealed as the twenty-four-hour sound loop follows a full cycle of the circadian rhythm. Three critical pathways are explored: soundscape and its importance to environmental awareness; visualization and its connection to traditions of landscape and colour field painting; and algorithms and their impact on authorship.

The Wetland Project commemorates the 50-year anniversary of the founding of the World Soundscape Project (WSP) by Canadian writer and composer R. Murray Schafer at Simon Fraser University. WSP members initiated the discipline of Acoustic Ecology by studying, through active listening, the relationship between humans and their environment.
More about the entire Wetland Project can be found at wetlandproject.com
---
About the Artists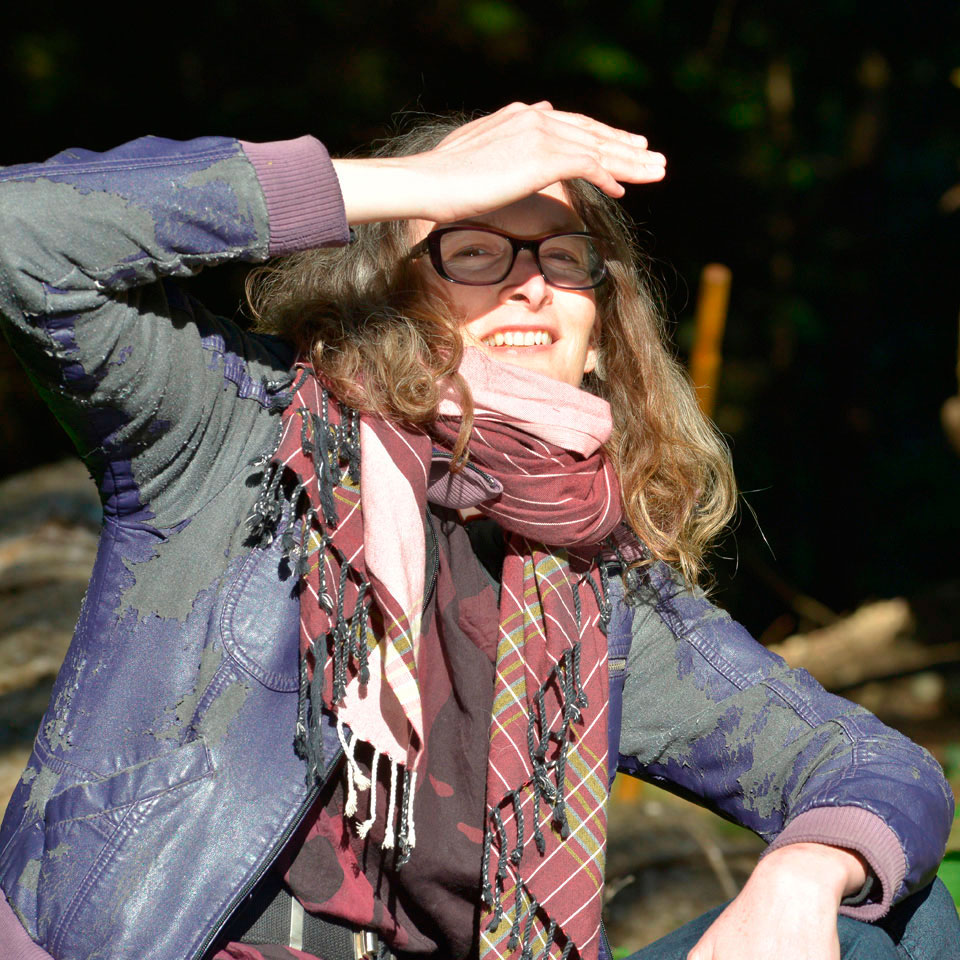 Brady Marks obtained an undergraduate degree in Computer Science from the University of Cape Town, South Africa, and a Masters in Interactive Arts from Simon Fraser University in Vancouver. With Chris Welsby, she implemented a real-time, weather-data transition system covering four continents for Tree Studies (2006), a three-screen digital media installation presented at the Gwangju Biennale in South Korea. Her interactive light sculpture I Am Listening (2007) was commissioned and acquired by the Surrey Art Gallery (BC), where it is on permanent display. In conjunction with VIVO Media Arts Centre (Vancouver), Brady received Innovations grant funding from the British Columbia Arts Council for the research and creation of a volumetric display device that generated interactive 3D sculptural images. The device was presented at the 2015 International Symposium on Electronic Art. As a graduate of Simon Fraser University taught by faculty including original members of the World Soundscape Project (WSP), and as a member of the Soundscape Collective at Vancouver Co-operative Radio, Brady Marks is an inheritor of the WSP legacy of Acoustic Ecology. She is a frequent host of Soundscape on Co-op Radio, as well as a member of the Vancouver Electronic Ensemble and a DJ working under the alias of furiousgreencloud.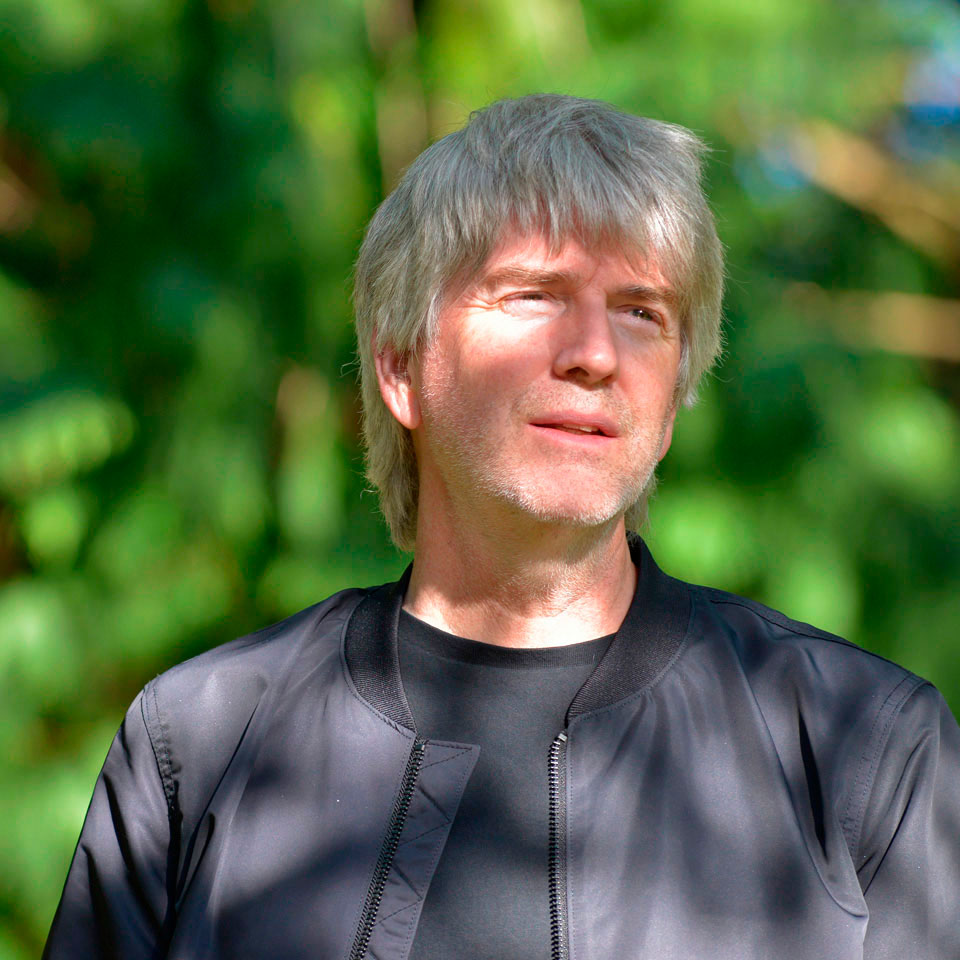 Mark Timmings is a multidisciplinary artist who explores perceptions of place by appropriating data and enfolding them into the domain of art. His bodies of work operate as conceptual machines that are driven by algorithmic systems. They are ultimately transferable and open-ended. Ongoing projects include Meteorologic (2010–), print works that conjoin grids and colour fields to track temperature patterns and personal memory; and The Tide Songbook (2012–), musical compositions that transform tidal predictions, moon phases and the solar calendar into illuminated scores and multilayered sonorous performance art. In 2014, the Vancouver Chamber Choir, under the direction of Jon Washburn, presented a performance of Mark Timmings and Stephen Morris's algorithmic musical composition Narvaez Bay: Tidal Predictions for 2012 aboard Cedric, Nathan and Jim Bomford's floating art installation Deadhead. The performance was commissioned by Other Sights for Artists' Projects. In 2015, an audio installation of Narvaez Bay, including Timmings's monumental illuminated score and a recording of the Vancouver performance, was exhibited in Montreal at Pierre-François Ouellette art contemporain. Mark Timmings is also a graphic designer specializing in visual arts and cultural projects. He lives and works on Saturna Island, British Columbia.

About the organizer
VIVO MEDIA ARTS CENTRE, incorporated in 1973 as the Satellite Video Exchange Society (SVES), is Vancouver's oldest media arts access centre. VIVO continues to fulfill its founding vision by directly supporting independent artists, community-based producers and activists to develop and exchange their skills in a supportive environment. Our members gather around the tools and material means of production to invent new understandings, new genres and new friendships. Reflecting both the diversity of contemporary technologies and the symbiotic communities that coalesce around new forms of knowledge and creativity, our programming fosters formal, aesthetic and critical approaches to media arts practice. VIVO builds an audience of makers, organizers and critics through artists in residence, lectures, workshops, performances, exhibitions and curatorial and archival research. As an integral artist run centre in Vancouver, our resources and facilities will continue to inform and influence engagement in all levels of media art investment.