Description
BCWF's Wetlandkeepers Courses are 2.5 day workshops that educate participants about wetland conservation!
Upon a community request, BCWF brings the Wetlandkeepers Course to covers topics of interest to community stewardship groups, this can include:
wetland mapping

wetland hydrology

amphibian, plant and animal identification

soil sampling
This is a hands-on fieldwork course that provides participants will technical skills to steward their own wetland. Upon completion of the workshop participants are provided with a Wetlandkeeper certificate, and provided with follow up support by the Wetlands Coordinator.

More information of specific activities is coming soon. Until then, see a sample schedule of activities conducted during a Wetlandkeepers Course, by clicking here!
When: June 12-14, 2015 (Fri:5:30 pm - 9 pm, Sat: 9:30 am - 5pm, Sun: 9 am - 5 pm)
Where: Bulkley Valley Rod & Gun Club, 6436 Glacier Gulch Road
Cost: Free! ($100 Value)
For more information contact:
Neil Fletcher, Wetlands Education Program Coordinator,
BC Wildlife Federation
Office: 1-888-881-2293 ext 232
Mobile: 604-970-9707
Email: wetlands@bcwf.bc.ca
Website: www.bcwf.bc.ca
Project partners will be listed when confirmed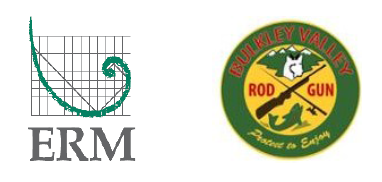 This project was undertaken with the financial support of: / Ce projet a été réalisé avec l'appui financier de:

Organizer of Wetlandkeepers: Smithers
The BC Wildlife Federation's Wetlands Education Program (WEP) helps build the capacity of British Columbian citizens to determine their backyard wetland assets, and increase their community's environmental health using this knowledge.
WEP activities result in habitat restoration, enhancement & conservation through the collaboration of communities, BCWF clubs/members, NGOs, naturalist groups & First Nations.