Location
Bulkley Valley Rod & Gun Club,
6436 Glacier Gulch Road
Smithers, BC
Canada
Description
BCWF's Wetlandkeepers Courses are 2.5 day workshops that educate participants about wetland conservation!
Upon a community request, BCWF brings the Wetlandkeepers Course to covers topics of interest to community stewardship groups, this can include:
wetland mapping

wetland hydrology

amphibian, plant and animal identification

soil sampling
This is a hands-on fieldwork course that provides participants will technical skills to steward their own wetland. Upon completion of the workshop participants are provided with a Wetlandkeeper certificate, and provided with follow up support by the Wetlands Coordinator.

More information of specific activities is coming soon. Until then, see a sample schedule of activities conducted during a Wetlandkeepers Course, by clicking here!
When: June 12-14, 2015 (Fri:5:30 pm - 9 pm, Sat: 9:30 am - 5pm, Sun: 9 am - 5 pm)
Where: Bulkley Valley Rod & Gun Club, 6436 Glacier Gulch Road
Cost: Free! ($100 Value)
For more information contact:
Neil Fletcher, Wetlands Education Program Coordinator,
BC Wildlife Federation
Office: 1-888-881-2293 ext 232
Mobile: 604-970-9707
Email: wetlands@bcwf.bc.ca
Website: www.bcwf.bc.ca
Project partners will be listed when confirmed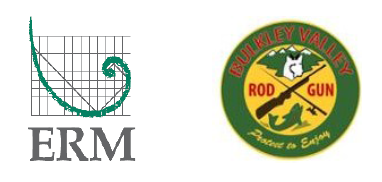 This project was undertaken with the financial support of: / Ce projet a été réalisé avec l'appui financier de: