Wetlands Institute 2021- Comox Valley and Galiano Island
Sales Have Ended
Registrations are closed
Thank you for your interest in the 2021 Wetlands Institute. Unfortunately, registration is no longer available. The Wetlands Education Program anticipates hosting another Wetlands Institute next year. To be informed when the next Wetlands Institute is announced, you can "like" our Facebook page or follow us on Twitter, or join our mailing list at https://bit.ly/3iN5Xk4. Thank you https://www.facebook.com/BCWFWEP/ https://twitter.com/BCWFWetlands
Sales Have Ended
Registrations are closed
Thank you for your interest in the 2021 Wetlands Institute. Unfortunately, registration is no longer available. The Wetlands Education Program anticipates hosting another Wetlands Institute next year. To be informed when the next Wetlands Institute is announced, you can "like" our Facebook page or follow us on Twitter, or join our mailing list at https://bit.ly/3iN5Xk4. Thank you https://www.facebook.com/BCWFWEP/ https://twitter.com/BCWFWetlands
The BCWF is proud to present the 2021 Wetlands Institute, a hybrid in-person and virtual event to train wetland practitioners.
About this event
2021 Wetlands Institute Workshop
When: October 2-8, 2021. Days typically run 9:00 am-6:00 pm. Days may begin/end earlier/later depending on the learning outcomes.
Where: Comox Valley and Galiano Island, Vancouver Island, BC.
Cost: NO CHARGE for B.C. residents OR  $1000 for non-B.C. residents. Optional accommodation fees for Galiano Island (Details TBA). All accommodation, travel, and meal costs to be covered by participants. This event is free, but as a non-profit charity, donations are always welcome. Please visit here to donate and select the Wetlands Program under designation.
DRAFT Schedule: 2021 TBA. See here for a previous events schedule.
The B.C. Wildlife Federation's (BCWF) Wetlands Insitute, a 7-day environmental stewardship workshop, is coming to Comox Valley and Galiano Island! It is with great pleasure and excitement that the BCWF brings this valuable course to the area free of charge for B.C. residents (worth over $1000 per participant). This special offer is available thanks to the generous contributions from our funders (costs for travel, food, and lodging are additional charges). 
This workshop is suitable for consultants, planners, environmental/conservation groups, government representatives, First Nations members, and engaged community members, like teachers or naturalists. Participants are expected to come to the course with a wetland project or program that they wish to implement in their community. Apply soon, as this course has been known to fill quickly! There are spaces only for 15 participants (possibly more with pending COVID announcements). We will contact you to confirm acceptance after we have reviewed your application. Attendance options include: Comox Valley portion only (Oct. 2-4), Galiano Island Option only (Oct. 5-8), or both (i.e., entire workshop, Oct. 2-8). For best learning outcomes, we recommend attending the entire workshop since topics will usually not be repeated but we understand busy work schedules. ** Please only register/apply for ONE option**
This workshop will be hosted in a hybrid virtual and outdoor in-person format, with COVID-19 safety procedures in place.
This year, you will have the opportunity to assist renowned Wetland Restoration Specialist Robin Annschild at the Galiano Conservancy Association's "Cedars for the Next Century" project to restore degraded forested wetland habitat. This year's presentations and activities are still being confirmed but some topics that were covered in previous Wetlands Institutes include:
Wetland types and functions
Hands-on experience planning, constructing, and restoring wetlands using groundwater and liner techniques
Invasive species identification and management
Amphibian identification
How to write a successful grant
Landowner contact techniques
Integrating Traditional Ecological Knowlege into your projects
History of Wetland Drainage in North America
Wetland invertebrate sampling
Wetland regulations 
And more!
This experience will also provide you access to a network of individuals who can help you successfully complete your local conservation project(s). You will leave with the skills, support, and confidence you need to make a difference in the world of wetland conservation. The B.C. Wildlife Federation is able to offer follow-up support and resources to participants who complete the workshop for up to 3 years.  Full-time participants are eligible to receive a certificate after successfully completing the workshop, and may be considered as professional development credits with some professional organizations. 
For more information, you may contact Alyssa Purse, Wetlands Education Program Coordinator, at alyssa.purse@bcwf.bc.ca or 604-882-9988 ext. 239 (Please note I am working remotely and email contact is preferred)
Please note, registration will time out after 4 hours and you will need the following details to complete your application:
How will you measure the success of your project/program?
What target species will benefit?
what target ecosystem(s), wetland class[es], plant association[s], site series are part of your project?
Any project barriers or challenges you are facing?
Area of wetland improved/supported by your project (in square meters). Also indicate if improvements are direct (e.g., restoration area) or indirect (e.g., watershed plan)
Total and annual cost of your project
Financial value of volunteer/in-kind support
Number of related outreach events of your project and estimated number of people engaged
This workshop is brought to you in partnership with:
Denman Conservancy Association, Cumberland Wetlands Working Group, Galiano Conservancy Association.
The workshop was undertaken with the financial support of: / Ce project a été réalisé avec l'appui financier de: 
Habitat Conservation Trust Fund (HCTF), Wildlife Habitat Canada (WHC), and the Province of BC.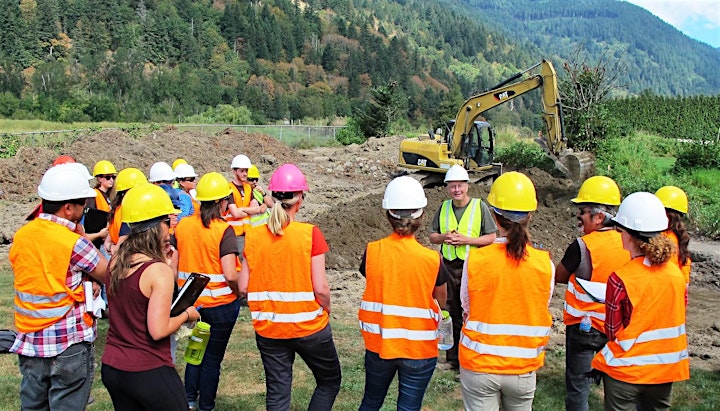 Organizer of Wetlands Institute 2021- Comox Valley and Galiano Island
The BC Wildlife Federation's Wetlands Education Program (WEP) helps build the capacity of British Columbian citizens to determine their backyard wetland assets, and increase their community's environmental health using this knowledge.
WEP activities result in habitat restoration, enhancement & conservation through the collaboration of communities, BCWF clubs/members, NGOs, naturalist groups & First Nations.