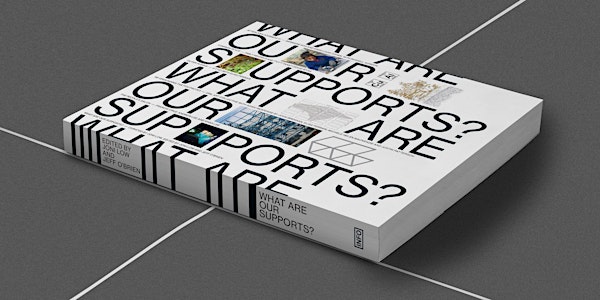 WHAT ARE OUR SUPPORTS? BOOK LAUNCH
Anthology book launch, contributor presentations and a discussion, followed by refreshments and books for purchase. Free to the public
When and where
Location
SFU Goldcorp Centre for the Arts 149 West Hastings Street Djavad Mowafaghian World Art Centre Vancouver, BC V6B 1H4 Canada
About this event
The School for the Contemporary Arts recognizes that we are on the unceded and occupied territories of the Musqueam, Squamish, and Tsleil-Waututh Nations.
Please join us to celebrate the launch of 'What Are Our Supports?,' an anthology with over 20 local and international contributors. Co-edited by Joni Low and Jeff O'Brien, the book is based on a series of artist group's projects in Vancouver's Cathedral Square Park curated by Low in 2018. Featuring artist reflections, commissioned poems and essays, reprinted texts, and additional artworks, the anthology highlights the need to reinvigorate sustainable, alternative support networks for artists and communities during uncertain times, now intensified by our global pandemic and human-induced climate crisis. How do artists make perceptible the underrecognized and foundational supports that will continue to guide us through precarity? What can we learn through the practice of being human, and through the quests of art?
Doors open at 1:30. Talk begins at 2:00pm, with contributor presentations, a discussion, and audience Q&As, followed by refreshments. Books are available for purchase at the in-person event.
To view the event online, click HERE to RSVP.
'What Are Our Supports?' is designed by Information Office, and co-published by Information Office, Doryphore Independent Curators Society, Richmond Art Gallery and Art Metropole.
CONTRIBUTORS
Germaine Koh, Aron Louis Cohen and Russell Gordon; T'uy't'tanat-Cease Wyss and Emily Neufeld; S F Ho and Elisa Ferrari; DRIL Art Collective, John Brennan, Justin Patterson, and Michele Helen Mackenzie; Andrew Yong Hoon Lee, Khan Lee and Francis Cruz; Céline Condorelli and Gavin Wade, Otoniya J. Okot Bitek, Charlene Vickers, Leanne Betasamosake Simpson, Alexa Solveig Mardon, Jeff Derksen, Paula Booker, Jeff O'Brien and Joni Low. With additional artworks by Debra Sparrow, Chantal Gibson and Bitek, and Ron Terada.
Accessibility
All venues inside SFU Goldcorp Centre for the Arts are accessible by elevator. The building is accessible at street level on the Hastings side or via a ramp on the Cordova Street Courtyard side (across from JJ Bean Coffee). There are 2 ramp entry points, one is located against the building, near the entrance to the Woodward's Westbank Atrium (which houses London Drugs and Nesters) and one is located against the building, beside the alley. Both the Hastings doors and the Cordova Courtyard doors can be operated by accessibility buttons located beside the doorways.
ASL interpretation is available on request. Requests can be accommodated up to 10 days in advance. Please contact info@jonilow.com by January 12, 2023 to book or for more information.
COVID-19 Safety:
Masks are encouraged on our campuses, particularly in spaces where people are in close proximity. Masks are not mandatory.
Further information on SFU's Return to Campus policy can be found here.