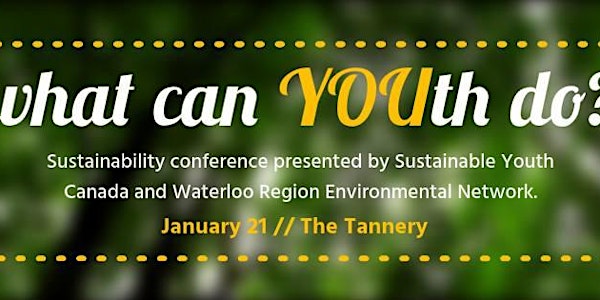 What can YOUth do?: Connecting youth, community, and sustainability -- a co...
Description
Are you young and passionate about environmental issues?
Are you interested in sharing your skills, resources, and passion with an environmental organization?
Are you trying to engage young people in your environmental organizations?
If you answered yes to any of these questions, than What can YOUth do? is for you! What can YOUth do? is a free, publicly accessible conference on how the youth of Kitchener-Waterloo can adopt and encourage sustainability in their local communities. Join community leaders, members, and youth for all or part of a day of knowledge sharing and an evening of networking. See the website for more details: http://www.whatyouthcando.com/
Two of this region's up and coming networking organizations have come together to bring you one of the largest ever networking events including youth and environment locally.
Founded through the efforts of multiple individuals and organizations in 2012, the Waterloo Region Environment Network (WREN) is a network of 175+ environmental organizations and individual affiliates around Waterloo Region working towards a shared vision of collaboration, community, and sustainability. WREN provides a framework for its members to foster connections and follow through on working together, via networking events, shared resources, and a digital space to host collective outcomes at www.wrenvironetwork.ca. Each year as a part of its events series, WREN hosts a major networking event to connect its members to each other and the greater community. This year we are thrilled to be partnering #WRENE2016 with our local youth.
Schedule:
3:00pm // Registeration
4:00pm // Sustainable Youth Canada
6:00pm // WREN Launch
6:30pm // Networking Session
7:30pm // Closing Remarks
Organizer of What can YOUth do?: Connecting youth, community, and sustainability -- a conference for youth, by youth