Description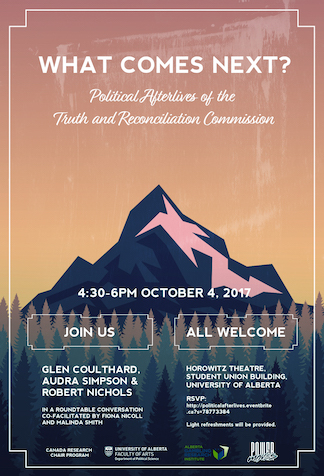 'Recognition' is a fundamental term through which the relationship between Aboriginal peoples and Canada has been imagined in political theory. More recently, Indigenous scholars have posited 'refusal' and 'resurgence' as grounds for a de-colonizing political praxis. This facilitated roundtable discussion brings together three outstanding scholars to engage with political challenges and possibilities emerging from the TRC calls to action.
Glen Coulthard is Yellowknives Dene and an associate professor in First Nations and Indigenous Studies and the Department of Political Science at the University of British Columbia. He is the author of Red Skin, White Masks: Rejecting the Colonial Politics of Recognition (Minneapolis: University of Minnesota Press, 2014), winner of the 2016 Caribbean Philosophical Association's Frantz Fanon Award for Outstanding Book, the Canadian Political Science Association's CB Macpherson Award for Best Book in Political Theory, published in English or French, in 2014/2015, and the Rik Davidson Studies in Political Economy Award for Best Book in 2016.
Audra Simpson is Professor of Anthropology at Columbia University. She is the author of Mohawk Interruptus: Political Life Across the Borders of Settler States (Duke University Press, 2014), winner of the Native American and Indigenous Studies Association's Best First Book in Native American and Indigenous Studies Prize, the Laura Romero Prize from the American Studies Association as well as the Sharon Stephens Prize from the American Ethnological Society (2015). She is co-editor of Theorizing Native Studies (Duke University Press, 2014). She has articles in Postcolonial Studies, Theory & Event, Cultural Anthropology, American Quarterly, Junctures, Law and Contemporary Problems and Wicazo Sa Review. In 2010 she won Columbia University's School for General Studies "Excellence in Teaching Award." She is a Kahnawake Mohawk.
Robert Nichols is Assistant Professor of Political Science and McKnight Land-Grant Professor of Political Theory at the University of Minnesota. He is the recipient of fellowships from the Fulbright, Humboldt, Killam, McKnight, and Trudeau Foundations, and has been a visiting scholar at Columbia University, the Humboldt University of Berlin, and the University of Cambridge. Author of The World of Freedom (Stanford, 2014) and co-editor (with Jakeet Singh) of Freedom and Democracy in an Imperial Context (Routledge, 2014), he is currently writing a book provisionally titled Theft is Property! Dispossession and Critical Theory.
Co-facilitators
Associate Professor Fiona Nicoll (Political Science Department, University of Alberta)
Professor Malinda Smith (Political Science Department, University of Alberta)