What Employers Want: Inside the Talent Needs & Practices of Industry Leader...
Description
Career Managers and Career Development Practitioners
Join the Ontario Association of Career Management (OACM) and the Career Development Practitioners Certification Board of Ontario (CDPCBO) for an insightful panel discussion and networking event:

What Employers Want: Inside the Talent Needs and Practices of Industry Leaders
What are the skills and attributes needed to work in different sectors? How can you support your clients to know what is required to stay current with industry requirements?
Get the first-hand, sector-specific talent insights from representatives of industries that are experiencing substantial growth in the GTA and Ontario: Health Care | Hospitality, Travel and Tourism | Real Estate Development and Urban Planning | IT/ICT
Panelists:
Mandie Abrams
Executive Director, Hospitality Workers Training Centre (HWTC)

Roger Stevens
Manager, Staffing Solutions and Volunteer Resources at University Health Network
Basu Mukherjee
CEO, Techno Canada Centre of Excellence

Marco Filice
Senior Vice President, Liberty Development

Aoife Noctor
Manager, City Sightseeing Toronto, Chair at Toronto Attractions Council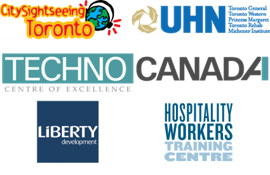 WHEN:
Wednesday, February 28th

WHERE:
Showcase Lofts
88 Colgate Ave. (Queen St. E. & Carlaw Ave.)
Toronto, ON
Buzzer code: 099
TIME:
Reception: 5:30pm - 6:00pm
Dinner: 6:00pm - 7:00 pm
Panel discussion: 7:00 pm - 9:00 pm
NOTE: This event will earn you a Professional Development Credit towards your career certification with ICCI, and re-certification with CDPCBO.
Brought to you by:


---
FAQs
How do I access the venue when I arrive?
Use buzzer code 099
What are my transportation/parking options for getting to and from the event?
By TTC
Bloor Danforth subway line
Get off at Pape Station
Take Pape bus 72C south on Pape which turns into Carlaw Ave.
Get off one stop south of Dundas, 250 Carlaw
The condo driveway is immediately in front of the bus stop
Walk up the driveway and take the back entrance to the building and directly into the party room area.
Queen St. East streetcar
Get off at Carlaw
Walk half a block north to Colgate Ave (runs west from Carlaw)
Building is on the north west corner
Entrance to 88 Colgate is half way down the building on the south side of the building facing Carlaw
Parking
For people with disabilities
There will be limited visitor parking for people with disabilities.
Please contact Gillian Johnston at gjohnston@cdpcbo.org for parking permit
Please supply the make and colour of the vehicle and the licence plate number
There are parking spots on the north side of the building in visitor parking; no parking without a permit
To enter take a left from Carlaw on the north side of the building
The sidewalk to the building is ramped and you can enter directly into the party room area from the outside visitor parking
General Parking
There is street parking on Carlaw
There is a public parking lot half a block north of the building at the corner of Dundas and Carlaw on the north east side of Dundas
The entrance to the parking lot is from Carlaw at the north end of the condo on that corner and it also houses the Crowsnest Theatre
There is some street parking on Colgate but it is limited
How can I contact the organizer with any questions?
info@ontarioassociationofcareermanagement.org