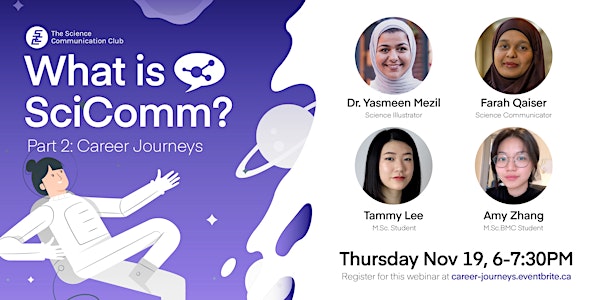 What is SciComm? Part 2: Career Journeys
Curious about research and careers in science communication? Hear from students & scientists as they share stories and tips for this field.
About this event
Curious about research and career journeys in science communication?
The U of T Science Communication Club invites you to What is SciComm? - a webinar series exploring programs and careers in the rising field of science communication.
Hear from students and scientists as they share their stories, tips, and answer your questions about SciComm careers:
Dr. Yasmeen Mezil, Ph.D., Adjunct Clinical Professor, Senior Lab Instructor, and Freelance Medical Illustrator
Farah Qaiser, M.Sc., Genomics Researcher and Science Communicator
Tammy Lee, M.Sc. Student and Science Communicator
Amy Zhang, M.Sc.BMC Student and Science Illustrator
What is SciComm? Part 2: Career Journeys
Date: Thursday, November 19, 2020
Time: 6:00 PM to 7:30 PM EST
Location: Online (Zoom)
(Note: This webinar will be recorded with access granted to event registrants.)
Our Guest Speakers:

Dr. Yasmeen Mezil
Adjunct Clinical Professor at McMaster, Senior Lab Instructor at Brock, and Freelance Medical Illustrator
Dr. Mezil completed her PhD in Medical Sciences at McMaster University. Her research focused on the physiological effects of exercise on muscle and bone health in children. She also incorporated knowledge translation into her doctoral work by using art and animation as a means of communicating her research findings. In addition to her research, Dr. Mezil has taught human anatomy in programs such as health sciences, kinesiology, occupational therapy and physiotherapy. Currently Dr. Mezil is teaching anatomy at McMaster University and Brock University, where she also uses art as a means of communicating anatomical science to her students. Alongside her role as an educator, Dr. Mezil is a self-taught Medical Illustrator and has been practising for at least five years. Her work has been published in scientific journals and art galleries alike.
Farah Qaiser
Genomics Researcher & Science Communicator
Farah Qaiser is a genomics researcher and science communicator. She recently completed a Master of Science degree at the University of Toronto, where she used DNA sequencing to better understand complex neurological disorders. Outside the lab, Farah writes stories about science and scientists for various media outlets, including Forbes, where her stories have reached over 70,000 readers. Farah currently serves on the Chief Science Advisor's Youth Council and ComSciCon Canada's organizing committee, where she helps shape Canada's science and science communication landscapes respectively.
Tammy Lee
M.Sc. Candidate at the Saltzman Lab (Department of Cell & Systems Biology) & Science Communicator
Tammy is a U of T Master's student studying histone readers and chromatin pathways in C. elegans. During the last year of her undergraduate studies, Tammy founded the U of T Science Communication Club, aiming to provide a platform for students from all STEM fields to learn and practice science communication. Since her graduate studies, Tammy remained as a general member of the club while initiating collaborative projects, incorporating science communication approaches into pedagogical methods.
Amy Zhang
M.Sc.BMC Candidate & Science lIlustrator
Amy is a first-year medical illustration student at U of T's Master of Science in Biomedical Communications Program. During her undergraduate years, Amy felt an increasing need to improve the way scientific concepts were delivered from experts to students and the general public. She sought out projects that weaved her interests in the arts and sciences at U of T, SickKids, and BioRender. As a graduate student, Amy helps promote science in the community as president of the U of T Science Communication Club and social media coordinator at Science Rendezvous UTSG.