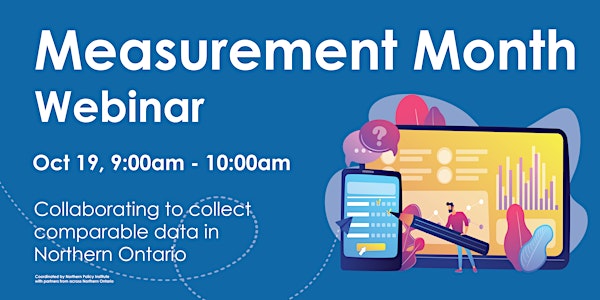 What Measurement Month Can do for YOU - 2023 Information Session
Zoom webinar. (Zoom links will be sent by email to registered attendees 1 day prior and again 30 minutes prior to the start of the event).
About this event
In February 2022, Northern Policy Institute, along with organizations across Ontario's northern regions, launched Measurement Month. Measurement Month is an annual effort to leverage our individual resources to collect consistent, comparable data to inform decision-making at the local, regional, provincial, and national level.
The next Measurement Month is taking place in February 2023. As such, Northern Policy Institute is hosting a Measurement Month Information Session for organizations interested in participating in Measurement Month 2023. In addition, learn about what Measurement Month can do for YOU.
Throughout the month of October, the reports detailing Measurement Month 2022's findings are being released, and this webinar will touch on key findings, next steps, and what this means for organizations within our regions.
Individually, we simply can't collect sufficient information to make informed policy decisions based on sound, consistent measurement. Together, we can.
To learn more about Measurement Month, click here: northernpolicy.ca/measurement-month