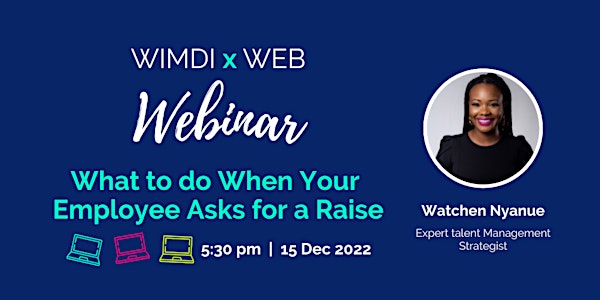 What To Do When Your Employee Asks for a Raise - WIMDI Interactive Webinar
A webinar version of our popular Speaker Series events where we learn skills that improve our leadership and careers!
Refund Policy
Contact the organizer to request a refund.
Eventbrite's fee is nonrefundable.
About this event
In 2022, The WIMDI Speaker Series is inviting engaging speakers each month to give interactive talks on topics that help women kill it at work.
Welcome to Talk 13 of 13 - What To Do When Your Employee Asks for a Raise
We all know it's coming: The moment when an employee walks into your office and asks you for more money (and you don't have it!). What do you do when you have to say no (or not right now) but you still want to retain your staff?
This talk will focus on how to handle negotiations with your team for title & pay – without any awkwardness. We'll cover:
How culture affects negotiation
What to do so you're prepared when your employees ask for a raise
Making your employee feel like they got a win (even if you said no to their ask)
Creating a path forward so your employee feels heard, valued, and empowered
The goal of this talk is to help you be a thought partner – not an adversary – in negotiations with your staff.
--------------
Watchen Nyanue, Expert talent Management Strategist
Watchen Nyanue is an expert talent management strategist, speaker, and facilitator who helps Fortune 100 companies keep their employees from quitting.
As the Founder and CEO of I Choose the Ladder, Watchen has been a guide for companies such as Nike, McDonald's, and Best Buy as they redefine what it means to cultivate a global, inclusive, and innovative workforce. With over fifteen years of corporate experience, Watchen's work sits at the intersection of talent, culture, and strategy.
Before founding I Choose the Ladder, Watchen was the SVP of Marketing Partnerships for the WNBA, Chicago Sky. During the past 15 years of working in Corporate America, Watchen has been privileged to work for many renowned companies, including Comedy Central, Hearst Digital, Yahoo!, and Johnson Publishing Company. Watchen has a proven track record of creating work environments where individual contributors and leaders are inspired to take action to shape the future of corporate America for all employees.
Watchen was born in Liberia and immigrated to Chicago after living through the Liberian civil war. She is an alumnus of the Posse Foundation and holds a Bachelor's in Communication from DePauw University and an MBA from The University of Chicago Booth School of Business.
--------------
Timeline of Our Fun Event:
5:30 pm - The event starts with mingling, socializing, and small-group networking. We recommend putting your webcam on* (even if you've already transitioned to work-is-over-dress-like-a-slob mode) to help you make the strongest possible connections with your new WIMDI friends!
5:45 pm - The talk starts! Most talks contain interactive elements, question prompts for you to complete, or other activities that make multi-tasking difficult. Get out your notepad and prepare to soak up some knowledge.
6:45 pm - It's #WIMDIasks time! We end the night with our interactive community-based resource that lets you crowdsource any challenge in your life through the network of all the WIMDIs in the room.
How Online Events Work:
We'll email you the login info for the Zoom meeting 5 minutes before the start of the event.
Can't find your login details? Check your spam for mail from WIMDI. If you still can't find the info, email hello@wimdi.com and we'll get you all sorted out.
Our events are interactive and will require your attention and input throughout the course of the event.
Attendance Notes:
1) Gender:
This event is open to individuals of any gender identity.
2) Code of Conduct:
By attending this event, you agree to adhere to WIMDI's code of conduct, which you can find at wimdi.com/code-of-conduct-and-policy.
3) Privacy, Photography and Recording*:
This event is being recorded for release on the WIMDI YouTube channel. By attending you consent to the terms laid out at wimdi.com/video-release/. We understand that some of our members may not be comfortable being recorded, and we don't want this to stop anyone from attending. Our Video Policy has helpful tips for staying internet-anonymous at our events. Learn more at wimdi.com/video-policy/
Online WIMDI events use Zoom, as such we cannot guarantee that no photos, screenshots, or recordings will be taken of you during the event by other attendees. We love it when our members connect at our events using both video and audio, but we understand if our members prefer to participate with their video turned off to preserve (more of) their privacy.
4) Donations to PAFNW (Pacific Association of First Nations Women)
As part of this event we have the option of donation to the Pacific Association of First Nations Women for their scholarship fund for Indigenous women and girls. This is a concrete way - beyond land acknowledgement - to redistribute some of our collective financial privilege to support Indigenous women.