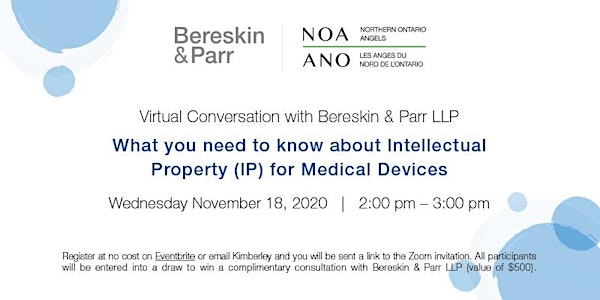 What you need to know about Intellectual Property (IP) for Medical Devices
JOIN NORTHERN ONTARIO ANGELS FOR A VIRTUAL CONVERSATION WITH BERESKIN & PARR LLP
About this event
What you need to know about Intellectual Property (IP) for Medical Devices
Wednesday November 18, 2020 / 2:00 pm - 3:00 pm
Register at no cost on Eventbrite or email Kimberley and you will be sent a series of questions and a link to the Zoom invitation. All participants will be entered into a draw to win a complimentary consultation with Bereskin & Parr LLP (value of $500).
Presenters:
Tony Orsi is a Partner with Bereskin & Parr LLP. Tony's practice focuses on patents with an emphasis on electrical, biomedical, software, and cleantech innovations as well as patent drafting, evaluating new technologies, and IP management strategies. Tony has worked on patent matters with small, mid and large-sized corporations, universities and tech transfer organizations, as well as individual inventors across Canada.
Stephen Beney is Managing Partner with Bereskin & Parr LLP and Chair of the Executive Committee. He is the Head of the Mississauga office and leads the Medical Devices practice group. Stephen works with clients to assess IP needs, and has helped to secure patents for a diverse array of clients, including start-ups, small-to medium-sized enterprises, major multinational companies, and university researchers.
Jennifer McKenzie is a Partner with Bereskin & Parr LLP and a leader of the Regulatory, Advertising and Marketing practice group. She is also co-leader of the Cannabis and COVID-19 practice groups. She reviews advertising and claim substantiation for clients in from pre-packaged consumer goods to regulated products such as drugs and medical devices.
Amanda Branch is an associate at Bereskin & Parr LLP with extensive experience in privacy law, including cybersecurity and data breach. Amanda's practice focuses on marketing and advertising law, cannabis law, consumer protection, regulatory and privacy law. She also advises on legal issues related to the Internet and digital media, including social media and other online platforms.
For more information:
Kimberley Wahamaa-Deschenes
NOA Operations & Events Manager
kim@northernontarioangels.ca
705-207-2658