Join Natalie Meyer for a family-friendly paint night that will explore the healing in art. This event is online via zoom.
About this event
This all-ages event will feature Internationally Recognized Artists Natalie as she works with families to turn their emotions, words and experiences into stories that can be viewed through art.
'What's Your Inspiration' will work with participants to teach them the creative skills found in art while introducing them to the mindful practice of creativity.
Please note supplies must be picked up from The Paint Spot off Whyte avenue in Edmonton
About the Series:
The ArTeMo project at the Africa Centre is an alternative collaborative approach to promoting mental health among Black Canadian youth and their families in Edmonton and Calgary to improve their psychological, emotional, and social well-being.
About the Moderator- Natalie Meyer
Natalie Meyer is an emerging Edmonton Visual Artist. Born in Edmonton and growing up in Sherwood Park, she was introduced to art at a young age, following the artistic footsteps of her older sister and father. Graduating from Computer Graphic Design at Grant MacEwan, this is where I found my love and curiosity for the human body.
Natalie's work is mostly centred around women and the beauty of womanhood, culture and movement. Painting mostly People of Color as she is one, she aims to represent the visible minorities in her work. She sees beauty in culture and heritage and celebrates this through the details in her artwork.
"In the Indonesian culture, we thrive in the presence of the arts; visual arts, music, dance. Our artwork is carved or painted by hand in intricate and woven handmade tapestry and designs. All of these components can be seen in my work. The name "Indah" translates into English into "Beautiful" which to me, appropriately describes art in one all-encompassing word. I want my artwork to reach people on an emotional level where they can relate to what the subject in my work is experiencing." ~Natalie
Please note this event will be recorded.
About The Africa Centre
Council of Advancement of African Canadians in Alberta (CAAC) operating as "Africa Centre" is a charitable organization based in the most northern city of the global north. Using a Pan-African approach, Africa Centre works with diverse communities of African descent in Alberta. The organization strives to bring African diversity of heritage, culture, and contributions to building a stronger community in Alberta, Canada. Our mandate is to create a thriving community with full participation in all aspects of life while maintaining cultural and heritage attributions of African identity. The Centre strives to deliver this mandate through community engagement, empowerment, preservation of traditions, and cultural heritage.
Note: The information gathered from this event may be used in the future to provide various services to support Black Youth in the future. Your name will not be released at any time, and if you wish not to provide information, you may inform the moderators at any time through the event.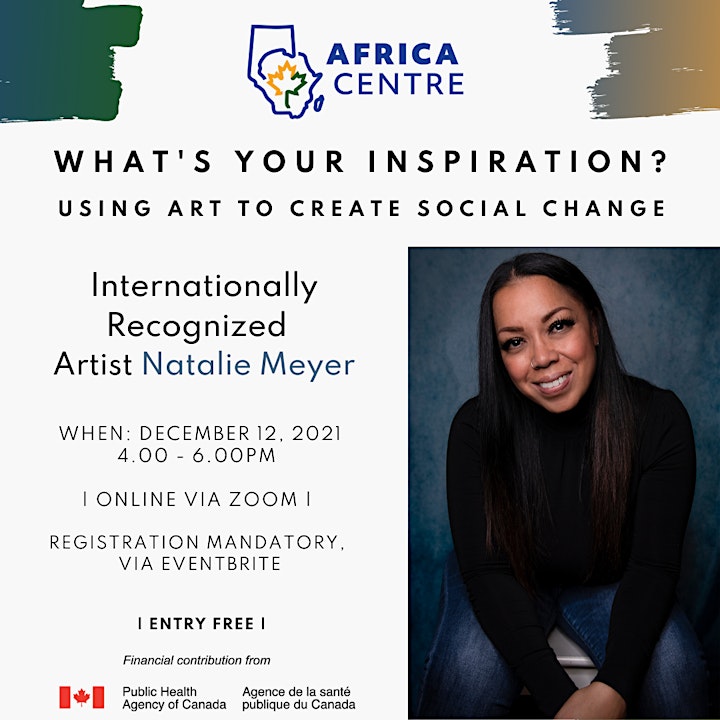 Organizer of What's Your Inspiration: Using Art to Create Social Change (Online)
Council for the Advancement of African Canadians in Alberta operating as Africa Centre is a non-profit organization that strives to create opportunities for access and full participation of members of the African-Canadian community in all aspects of society. Since its conception in 2007, the Africa Centre has become a hub for a growing community, a support system, and resource portal for African Canadians in Edmonton. 
Vision
To establish an African Centre that will serve as the hub of the community and provide and is welcoming, show respect for diversity and support members of all interests and abilities     
Mission                                            
The Organization strives to create opportunities for access and full participation of members of the African community in all aspects of society including economic, social, cultural and educational endeavors and contribute to the holistic development and wellness of the African individual, family and community.