Join us for this series with Internationally Recognized Musician Arlo Maverick.
About this event
This all-ages online event will feature Marlon " Arlo" Maverick who will work with youth to turn their emotions, words and experiences into stories that can be viewed through music.
'What's Your Inspiration' will work with participants to teach them the creative skills found in music writing while introducing them to the mindful practice of creativity.
Participants will receive a $25 gift card after completing the surveys. Please allow 4 weeks to process your gift cards.
About the Series:
The ArTeMo project at the Africa Centre is an alternative collaborative approach to promoting mental health among Black Canadian youth and their families in Edmonton and Calgary to improve their psychological, emotional, and social well-being. In the Winter of 2020 youth and their families participated in a wellness series that introduced the self care factors on art and music. This series of events will continue to support those learnings
About the Moderator- Marlon "Arlo Maverick" Wilson
Marlon "Arlo Maverick" Wilson is an Edmonton-based Hip-Hop Artist, Music Consultant and Community Leader. As 1/4 of the 3X Western Canadian Music Award-nominated hip-hop act Politic Live, Maverick toured Canada, released critically acclaimed music and ran an initiative called Hip-Hop For Hunger for 13 years which raised over 10, 000 lbs of food for the Edmonton Food Bank. Since pursuing solo endeavours, Maverick has showcased overseas in Europe and Asia, charted on-campus radio in both Canada and the US, and won three Edmonton Music Awards.
A man of his community, Arlo Maverick has always found the time to give back. For 11 years he hosted CJSR's Urban Hang Suite giving urban music artists a platform to grow their fan base. While this is probably his most notable contribution, Maverick has been a mentor to many aspiring artists and sat on many boards to advocate on behalf of artists, including music industry association Alberta Music, the Edmonton Music Awards and the Juno's Rap Advisory Committee.
Please note this event will be recorded.
About The Africa Centre
Council of Advancement of African Canadians in Alberta (CAAC) operating as "Africa Centre" is a charitable organization based in the most northern city of the global north. Using a Pan-African approach, Africa Centre works with diverse communities of African descent in Alberta. The organization strives to bring African diversity of heritage, culture, and contributions to building a stronger community in Alberta, Canada. Our mandate is to create a thriving community with full participation in all aspects of life while maintaining cultural and heritage attributions of African identity. The Centre strives to deliver this mandate through community engagement, empowerment, preservation of traditions, and cultural heritage.
Note: The information gathered from this event may be used in the future to provide various services to support Black Youth in the future. Your name will not be released at any time, and if you wish not to provide information, you may inform the moderators at any time through the event.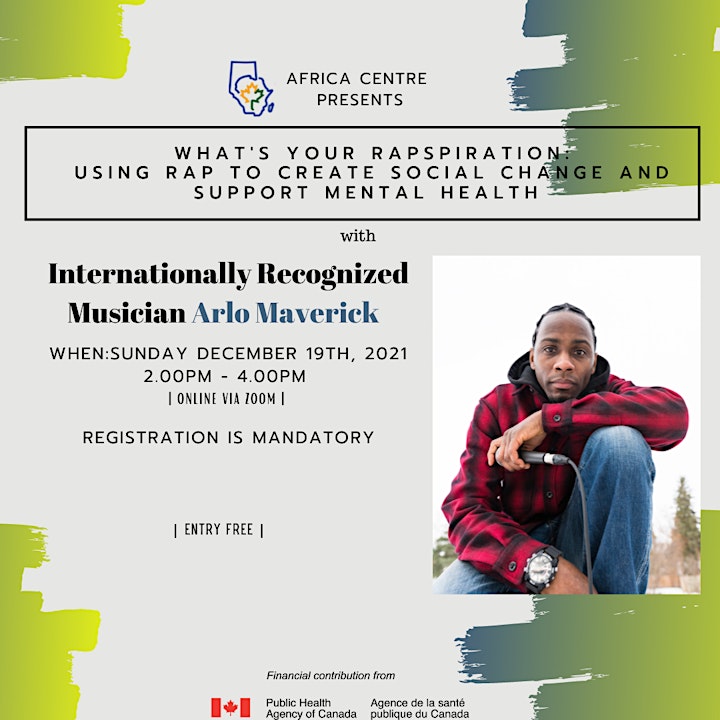 Organizer of What's Your Inspiration: Using Music to Create Social Change (Online)
Council for the Advancement of African Canadians in Alberta operating as Africa Centre is a non-profit organization that strives to create opportunities for access and full participation of members of the African-Canadian community in all aspects of society. Since its conception in 2007, the Africa Centre has become a hub for a growing community, a support system, and resource portal for African Canadians in Edmonton. 
Vision
To establish an African Centre that will serve as the hub of the community and provide and is welcoming, show respect for diversity and support members of all interests and abilities     
Mission                                            
The Organization strives to create opportunities for access and full participation of members of the African community in all aspects of society including economic, social, cultural and educational endeavors and contribute to the holistic development and wellness of the African individual, family and community.