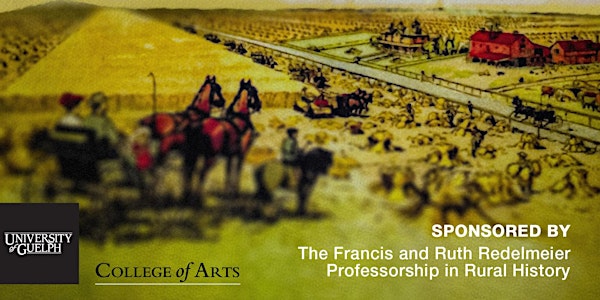 Wheat Mines or Circular Economies? Energy History of Canadian Agriculture
Join the Rural History Roundtable as Josh MacFadyen shares his exciting research! Register at https://www.uoguelph.ca/arts/rural/roundtable.
About this event
Joshua MacFadyen, Canada Research Chair (Tier II) in Geospatial Humanities, University of Prince Edward Island
"Wheat Mines or Circular Economies? An Energy History of Canadian Agriculture, 1871-1991"
Agriculture has experienced some of the most significant energy transitions in modern history, perhaps most famously the rising returns of agricultural output to labour in the nineteenth century. Productivity growth continued in the twentieth century although it came at a heavy cost in energetic terms. Farmers began to rely on relatively large amounts of fossil fuel inputs, and they traded the small farms of mixed husbandry for larger and increasingly specialized operations. Farms that were once the world's primary energy providers eventually became an energy sink. Rural Canadians made a variety of decisions about how they would use land and other resources to produce food and fuel energy. From the perspective of both land use and total energy, the majority of settler activity was dedicated not to cash crops and human food but to feed. This paper uses diaries, census microdata, and the published Census of Agriculture to model and visualize the role that hay and other internal biomass energy flows played in a primarily circular economy.