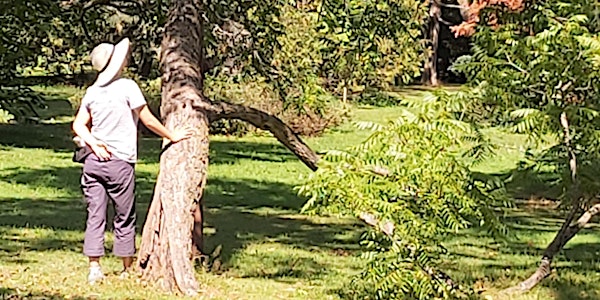 "When I Am Among the Trees" - A Forest Walk Guided by Mary Oliver's poetry
Oliver said she was born "to look, to listen, to lose myself inside this soft world." Let's follow her lead on this walk, on her birthday.
About this event
Mary Oliver's poetry will provide the inspiration for our wandering on this guided Nature & Forest Therapy Walk.
I offer a series of gentle invitations to help you slow down, awaken your senses, and be attentive to the present moment. This way of walking can help us forget our worries, re-connect with ourselves and the land and, as Oliver wrote, might just open the door to astonishment.
We'll walk by the pond, through the meadow and among the trees of the Fletcher Wildlife Garden on the edge of the Arboretum. We'll end our walk with wild-crafted tea, just as the sun sets.
Tickets: $30/person -- limited to 8 participants (minimum of 3 needed for the walk to go ahead)
Please review my Covid-19 Protocols before registering and let me know if you have questions: http://www.foresttherapyottawa.ca/covid-19-protocols.html
You'll receive more details once you register -- what to bring, where to meet, etc.
I look forward to guiding you, in partnership with the forest and Mary Oliver!
Andrea Prazmowski, Certified Nature & Forest Therapy Guide since 2017 (and inspired by Oliver's poetry long before that)
Organizer of "When I Am Among the Trees" - A Forest Walk Guided by Mary Oliver's poetry
Andrea Prazmowski is a Certified Forest Therapy Guide, who trained with the Association of Nature and Forest Therapy Guides and Programs (ANFT) and has been guiding Forest Therapy sessions since 2017. She has also trained and mentored new Forest Therapy guides with the ANFT. Andrea facilitates workshops on Ecological Grief and organized a series of Forest Church gatherings in Ottawa, and has facilitated scores of learning programs and community environmental initiatives over the past two decades. She is a certified Hike Leader with Hike Ontario and has earned certificates in Permaculture Design and Reiki, and is a freelance writer and editor.