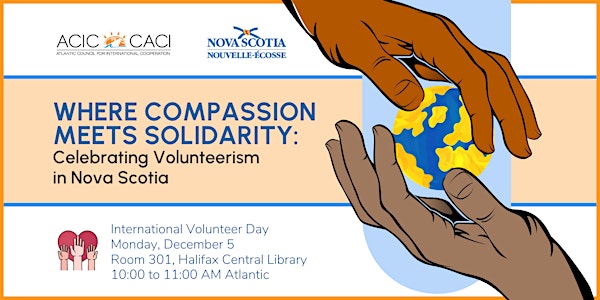 Where Compassion Meets Solidarity: Celebrating Volunteerism in Nova Scotia
Celebrate International Volunteer Day with a panel discussion, short screening of Ukraine: One Life At A Time , networking and refreshments.
When and where
Location
Halifax Central Library 5440 Spring Garden Road Room 301 Halifax, NS B3J 1E9 Canada
About this event
With the support of the Department of Communities, Culture and Heritage, ACIC will be hosting a celebration to mark International Volunteer Day. The aim of the celebration will be to highlight the impact Nova Scotian volunteers make locally and internationally, to support the growth of volunteerism at home and abroad, and to help foster networking for volunteers and organizations from across the province.
This event will focus on the impact that Nova Scotians are making on peace and conflict, and climate change issues through a panel discussion that brings together high-profile volunteers who will tell stories about their work. Speakers will also explore the role volunteerism plays in global solidarity, while focusing on recent crises including the war in Ukraine the floods in Pakistan. We will also explore the impact Indigenous youth are making through volunteerism.
The event will include an introduction by Elder Joe Michael, a brief remark from the Minister's Office, screening of a short clip from the documentary Ukraine: One Life At A Time, remarks from our guest of honours, and a short panel discussion.
Where: Room 301, Halifax Central Library
When: Monday, December 5, 10:00 to 11:00 AM Halifax
Light refreshments will be served. Please register to confirm your attendance. We have limited seats available in the room, so if you register and are unable to make it, please remember to cancel your reservation.
-*-
The Atlantic Council for International Cooperation is a coalition of individuals, organizations and institutions working in the Atlantic region to build and model just, equitable and sustainable communities, locally and globally.
-*-
Speakers and Panelists:
Olesya Shyvikova is a Ukrainian Canadian journalist and filmmaker. She has a special passion for documentaries, telling stories of the small marginalized communities, addressing the themes of justice, transformation, healing and lately war.
Donald Bowser is a law enforcement and security expert with over 25 years experience in governance issues mainly in transition/conflict countries The bulk of his professional life has revolved around identifying and mitigating weaknesses in governance that impact security structures around the globe and drivers of conflict. He has three decades experience in the post-Soviet space with the bulk of it in Ukraine including most of the last 8 years. He has been engaged in large-scale stabilization efforts in conflict affected areas such as Sierra Leone, Iraq, Afghanistan and South Sudan. Currently he is engaged as founder of the NGO "Support to Ukraine Recovery Initiative" following 4 month of fund-raising and implementing the 'Protect People in Ukraine' that delivers non-lethal military assistance to the military forces in Ukraine.
Chiran Livera joined the Red Cross in 2003 and has managed humanitarian operations across Canada, in South Asia, East and West Africa, Caribbean and Latin America regions. His expertise is in the first phase of emergency operations, and recently returned from a posting in Pakistan responding to the floods emergency. When not on deployment, he oversees humanitarian leadership development for the Red Cross, and manages a team of stand-by surge staff for global emergencies. He holds degrees in International Relations and Leadership and is an accredited facilitator.
Maisyn Sock is a proud Mi'kmaw woman from the community of Eskasoni, NS. She also has family ties across Mi'kma'ki, specifically Elsipogtog, NB. Maisyn is a youth advocate, community volunteer, published writer, and podcaster. In her free time, she enjoys spending time with family and friends, journalling, and painting. This past year, Maisyn was the community coordinator for a project that collaborated CBC and Eskasoni. With that experience, she has found a passion for modern day storytelling. She hopes to continue to learn the stories of not only her community, but communities across Mi'kma'ki. Maisyn Sock holds a lot of appreciation and gratitude towards her culture and people. Her main goal in life is to make her people, ancestors and future generations proud.
Camryn Sock is a proud young Mi'kmaw women from the community of Eskasoni, Nova Scotia with familial roots in Elsipogtog, New Brunswick. Camryn holds pride in her culture and communities. Camryn is a loving sister, auntie, and friend. Her interests include visiting family and friends, and story telling. Her passions are youth empowerment, and language and culture revitalization. Throughout her life, she was fortunate to witness the importance of volunteerism within her community of Eskasoni. With her mother's guidance, Camryn was able to see the significance of supporting her community by working towards the betterment of it.