Where do we go after death and how to help our departed loved ones? - 11 Ma...
Description
Where do we go after death and how to help our departed loved ones?
The Spiritual Science Research Foundation invites you to attend a unique spiritual lecture presented by His Holiness Cyriaque Vallee. All are welcome.
Have you ever wondered what happens after death? Does reincarnation exist? Many of us have pondered about these questions at some point in our lives. Especially if our loved ones have passed away, it is natural for us to wonder where they are now and if they are okay. Some people have reocurrent dreams of departed family members or feel their presence lingering around the family home. So what does this mean?
In this presentation we will explain in detail what happens to the subtle body after death and the journey that unfolds in the afterlife. When we have dreams of our departed family members or feel their presence, it is very likely that they are requiring our help to move on in the afterlife. Sometimes our departed loved ones may try to get our attention through different ways and we will share how to identify these signals. There are spiritual measures that we can take to help our departed family members and also measures we can take to protect ourselves from problems that may be caused due to departed ancestor spirits. We welcome you to join us in this spiritual lecture to learn more.
This lecture is free of cost to attend and donations to The Spiritual Science Research Foundation are welcome. If you have any questions and would like to contact us, please email ssrffareast@gmail.com.
Presenter of the lecture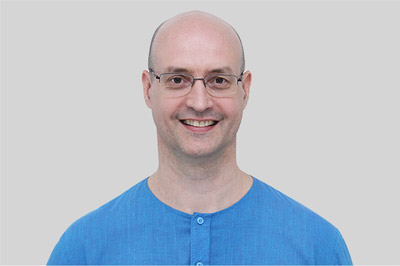 His Holiness Cyriaque Vallee is originally from France. He was a successful fashion model and used to travel the world modelling for internationally recognised brands such as Giorgio Armani and Ermenegildo Zegna. When he was introduced to spirituality by his wife (who was also a successful model), he realised that only spiritual practice can give everlasting happiness.
In January 2009, they made the decision to come stay at the SSRF Research Centre and dedicate themselves to spiritual practice with their daughter, Anastasia. They moved to India with only 3 suitcases of belongings and they have been living in the SSRF Research Centre for the past 10 years. By doing spiritual practice with full dedication he made rapid spiritual progress and reached Sainthood in 2013. Cyriaque oversees all of SSRF's activities internationally and many seekers have received invaluable guidance and support from him in their spiritual journeys.
This event is organized by:
The Spiritual Science Research Foundation