WhereCamp Montréal 2011

Tuesday, October 11, 2011 from 9:00 AM to 9:00 PM (EDT)
Event Details
Journée WhereCamp Montréal 2011
 sur Twitter, suivre @WhereCampMtl / utiliser les hashtags #WhereCamp #Mtl
Le mardi 11 octobre 2011
De 9h00 à 17h00
À la Maison Notman, Montréal
Événement gratuit
Formule:
Lors de votre inscription gratuite, vous indiquez un sujet que vous aimeriez éventuellement présenter et partager avec les autres participants (2-5 minutes) afin de provoquer une discussion avec les autres participants (10-15 minutes). L'objectif est d'apprendre grâce aux connaissances et à l'expérience des participants sur les différents sujets qui seront abordés pendant la journée.
La modération et l'animation sera assumé par les organisateurs, Sylvain Carle et Luc Vaillancourt.
Votre sujet peut se présenter sous forme de question, d'affirmation, d'observation, de partage d'expérience, de demande de feedback et d'expérience dans la salle, ... vous présentez votre sujet en 30 secondes ou en 5 minutes ... puis on en discutte une dizaines d'autres. Les animateurs tenterons de regrouper les sujets par grands thèmes ou grandes tendances ... avec une dose d'improvisation et insérant tel ou tel sujet selon le "timing" et la pertinence des propos... c'est ce qu'un un événement de type "Camp".
Horaire de la journée:
 8h30 à  9h30 - Accueil et networking
 9h30 à 10h45 - Bloc de sujets #1 (4 à 6 sujets)
10h45 à 11h00 - Pause
11h00 à 12h15 - Bloc de sujets #2 (4 à 6 sujets)
12h15 à 13h45 - Dîner libre
13h45 à 15h00 - Bloc de sujets #3 (4 à 6 sujets)
15h00 à 15h15 - Pause
15h15 à 16h30 - Bloc de sujets #4 (4 à 6 sujets)
16h30 - Conclusion et direction Benelux pour le 5à7 OSGeo-Qc!
Sujets:
Domaines/professions: Cartographie, Géomatique, Télédétection, Géographie, Statistique, Programmation, Design Web, ...
Technologies/tendances: SIG, CAD, SGBD Spatial, ETL Spatial, Web-mapping, GPS, Géolocalisation, GeoBI, ... Cloud Computing (IaaS, SaaS, PaaS, DaaS), Open Source, Open Data, Mobilité, Social, Local
Standards: OGC / Open Geospatial Cosortium (WMS, WFS, WPS, SOS, CSW, ...), W3C
Grandes compagnies: Google, Apple, AOL/MapQuest, Yahoo!, Microsoft Bing, Oracle, Microsoft, esri, Bentley, Autodesk, Intergraph, Pitney Bowes Business Insights/MapInfo, OpenGeo
...
Possibilité de commanditer l'événement (250$ par OBNL et 500$ par compagnie). Contacter Luc Vaillancourt.
5 à 7 de l'OSGeo-Qc
 sur Twitter, suivre @OSGeoQc
Le mardi 11 octobre 2011
De 17h00 à 21h00
À la brasserie Benelux, Montréal.
Entrée gratuite (consommations sur place à vos frais)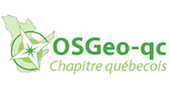 Le chapitre québécois de l'OSGeo (Open Source Geospatial Foundation) vous invite à son xième 5 à 7!
Que vous ayez participé ou non au WhereCamp durant la journée, vous êtes les bienvenus à ce Rendez-vous des gens de la géomatique, Open Source ou non!
GÉOMATIQUE 2011
Cette journée WhereCamp du 11 octobre précède l'événement de l'année 2011 en géomatique au Québec, Géomatique 2011 se déroulant les 12 et 13 octobre au Hilton Montréal Bonaventure.

Attendee List
Sort by:

Date

|

First Name

|

Last Name
When & Where

Maison Notman
51 Sherbrooke Ouest
Montreal, Quebec H2X 1X2
Canada

Tuesday, October 11, 2011 from 9:00 AM to 9:00 PM (EDT)
Add to my calendar
Organizer
Sylvain Carle (@sylvaincarle)
CTO & co-fondateur de NEEDIUM, Montréal. Passionné de techno, réseaux, média, logiciels libres, local et social.
Luc Vaillancourt 
(
@lucvaillancourt
)
CEO et co-fondateur de SPATIALYTICS, Québec. Proprio du magazine en géospatial BALIZ-MEDIA.com.