Description
Join us Tuesday, October 16, as we welcome Whiskey Ottawa and their annual
Kentucky Bourbon Spirited Dinner, hosted by Beam-Suntory Kentucky Brand Ambassador Ray Daniel.
Each ticket includes a four course dinner along with a tutored tasting of five (5) different impressions of Kentucky Whiskey!
The Whiskies included are;
Basil Hayden Dark Rye; Jim Beam's Black, Jim Beam, Maker's Mark and 'hard to find' Maker's 46!

Each food course, prepared by Chef Glen Sansome & our team; will uniquely match each whisky.

Tickets are only $65, taxes & gratuities included.
(EventBrite fees extra).
Additional beverage purchases not included.

Seating is very limited (ONLY 48 seats).
Makes the perfect gift!!
Purchase your tickets today.
Tickets/Reservations can only be purchased/made via EventBrite.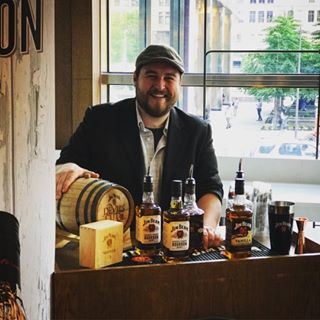 Who is Ray Daniel?
Ray is the new Beam Suntory Bourbon Ambassador to Canada and brings with him nearly two decades of experience behind the bar from Europe to North America. Hailing from Ireland, Ray has a broad whisk(e)y knowledge, and of the Bourbon category in particular. With a long background in competitive bartending, Ray's escapades have landed him in competitions and as a guest speaker and lecturer throughout Canada, Mexico and the USA, also appearing in publications such as Whisky Magazine and The New York Times.