Location
Ice Arena Wales
Olympian Drive
Cardiff
CF11 0JS
United Kingdom
Refund policy
Contact the organiser to request a refund.
Eventbrite's fee is nonrefundable.
Register Now! Whistle Hockey Elite 13+ Group!
About this event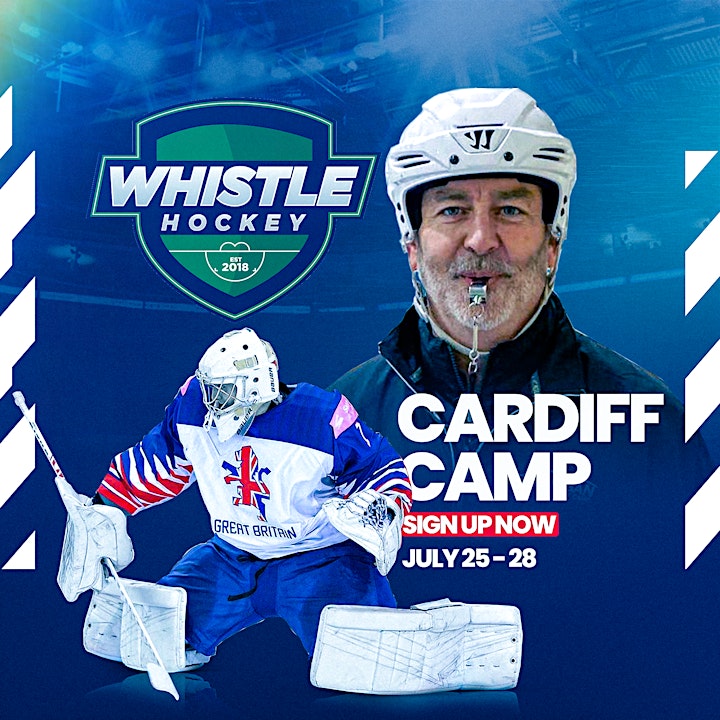 We are very excited to launch our upcoming camp in Cardiff this year for summer 2022!
We can confirm this years head player coach will be Nottingham Panthers coach David Whistle while the head goalie coach will be Belfast Giants and Team GB goalie Jackson Whistle. We will also have multiple EIHL and Team GB players coaching at the camp.
We have lowered our capacity for this years camp to give a more tailored experience to anyone who attends. Please sign up ASAP to reserve your spot. If you have any questions regarding the camp please email whistlehockey@gmail.com for more information.
Thanks,
Jackson Whistle
Elite 13+ Group: (4 Day Camp)
• Reserve Your Spot Now! £50 Full Price (£250)
• Cardiff Viola Arena, Cardiff Wales
• Date July 25th-28th, 2022
• Players and Goalies
• 2 1-Hour On Ice Sessions Per Day (120mins)
• 1 Off Ice Session Per Day (60mins)
• 1 Whistle Hockey Jersey
• Snack Provided Each Day
Whistle Hockey is excited to announce our Elite 13+ Group for the upcoming 2021 Summer! This program is open to both players and goalies who will be 13+ this upcoming 2022/2023 season. All players and goalies must have at least 2 years playing experience and can perform all basic on ice skills.
Players can expect each on ice session to be split in half with the first 30 minutes focused on power skating and edge work while the second half will consist of shooting, stick-handling, and passing. Our goal with the players who attend our program is to help make them a more explosive skater with the ability to make good heads up puck moving plays and learn new shooting techniques they will see in game like scenarios. We will help to build all their fundamental skills and form good habits they can take with them into the upcoming season.
Goalies will be working separate from the players with the goalie instructors for the first half of each session covering goalie specific skating, technique, and shooting drills. We will then be rotating the goalies in with the players to face shots while at the same time still working with the instructors. The goal with our goaltenders throughout the course of the camp is to help work and build their fundamental base while continuously pushing them to move faster and become more efficient. We will work on many different aspects of the position that will include proper skating technique, edge work, puck tracking, rebound control, post work, puck-handling, battle drills and reading game like scenario plays.
Throughout the course of the on-ice session we will be incorporating some small and full ice area games as we want goalies and players to battle and work on the skills they learned throughout the session.
After the on-ice sessions both players and goalies will be heading out for a 60 minute off ice workout. Our goal with each off-ice session is to help show players things they can do off the ice which will help lead to better on ice performance. We will work on building power and speed through agility circuits, plyometrics, and quick feet drills and will also demonstrate proper ways to warm up and cool down to help with injury prevention. We will also incorporate games into all our off ice sessions.
We think this is a great opportunity for players and goalies to develop and work on their own individual skill sets, that will help them prepare for the upcoming season and be the best they can be.
Exact Camp Schedules will be released closer to the camp date.
If parents wish to drop their son or daughter off at the rink, we will have coaching staff available who can help assist with getting skates tied and getting on the ice. Dressing room numbers will be assigned at check in on the first day and players are expected to get dressed in the same room throughout the course of the week unless otherwise specified. Campers will receive their snack in between the first and second on ice session. After the on-ice session players are to get unchanged right away and meet at the check in table where they picked up their jersey on the first day of camp. One of the coaches will then walk with them to the off-ice area and back again. Please remember to bring workout attire, running shoes, and your own water bottle each day for camp.
If you have any questions about our Elite 13+ Program, or have trouble signing up, please email whistlehockey@gmail.com If you are unable to sign up because of the camp being at full capacity please email us to be put onto our waitlist.
Thanks,
Jackson Whistle