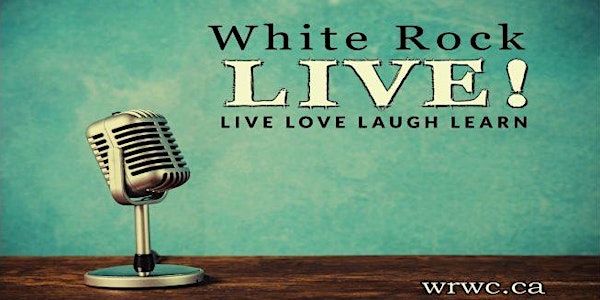 White Rock Live
White Rock Live! is modelled after the popular PechaKucha 20x20 events.
When and where
Location
White Rock Wellness Center 14615 16th Ave White Rock , BC V4A 1R4 Canada
About this event
What is a White Rock Live! event?
It is an evening focused on bringing people together in a fun and casual environment; to build friendships & deepen relationships through meaningful & engaging conversations. It's about getting out and socializing at a real event, with real people, real communication, and real creative insight. It's about learning to understand each other. It's about living, loving, laughing, learning … and maybe even crying together.
How does it work?
White Rock Live! is modelled after the popular PechaKucha 20x20 events, where pre-arranged speakers share a topic of their choosing in the PechaKucha format: 20 images x 20 seconds = a total speaking time of 6 minutes & 40 seconds per speaker.
What are the topics?
That's the beauty of it – presentation topics can range from personal to funny, from the unexpected to the very different … like a "box of chocolates you never know what you will get".
What else?
There will be time to socialize, eat, swap stories, make new friends, meet the speakers, ask questions, and hopefully come away from the evening inspired and uplifted.
Admission
Admission & refreshments are free, with seating first come, first seated.
Spread the Word!
Invite your family, friends, neighbors and community members for an evening of inspiration. All are welcome – the more the merrier!