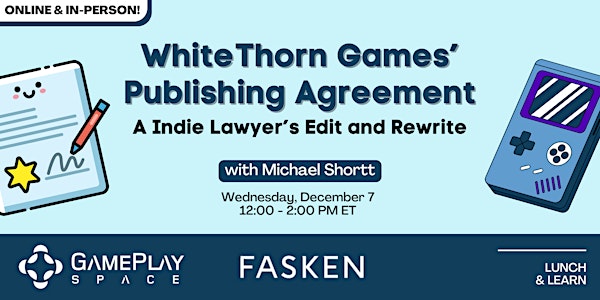 WhiteThorn Games' Publishing Agreement: An Indie Lawyer's Review and Edits
Learn about what to look for in publishing agreements!
About this event
BECOME A FREE OR PAYING MEMBER TO ACCESS OUR EVENTS. You will be sent your access code.
GamePlay Space presents: WhiteThorn Games' Publishing Agreement: An Indie Lawyer's Review and Edits
Join Michael Shorttfrom Fasken for this talk on publisher agreements.
Schedule:
12-12:30pm - Pizza
12:30 - 2pm - Talk (hybrid)
In this talk, we will review the key clauses in WhiteThorn Game's publishing agreement from a business and legal perspective. Intellectual property lawyer Michael Shortt will show you the edits that he would make to this contract during a real contract negotiation, and explain the strategy behind these edits. The talk will cover key clauses like revenue sharing, intellectual property, and termination rights, with a practical discussion of how indie developers can protect themselves in each case. Michael will compare the WhiteThorn Games agreement with the publishing contract that Raw Fury made available, and that Michael reviewed in an earlier GamePlay Space talk.
This is a hybrid event - it will take place in-person at GamePlay Space and will be streamed live on Zoom. Both in-person and online tickets are available.
Members get free access to this event. Not a member? Become one now.
-------------------------------------------------------------------------------
** Cette conférence sera en anglais uniquement **
DEVENEZ MEMBRE GRATUIT OU PAYANT POUR ACCÉDER À NOS ÉVÉNEMENTS. Nous vous enverrons votre code d'accès.
L'Espace Ludique présente : WhiteThorn Games' Publishing Agreement: An Indie Lawyer's Review and Edits
Joignez-vous à Michael Shortt de Fasken pour cette conférence sur les accords avec les éditeurs.
Programme :
12h - 12h30 - Pizza
12h30 - 14h - Conférence (hybride)
Nous aurons l'occasion dans cette conférence de passer en revue les principales clauses du contrat d'édition de WhiteThorn Game d'un point de vue commercial et juridique. Michael Shortt, avocat spécialisé dans la propriété intellectuelle, vous montrera les changements qu'il apporterait à ce contrat lors d'une véritable négociation et vous expliquera la stratégie qui sous-tend ces changements. La présentation couvrira les clauses clés telles que le partage des revenus, la propriété intellectuelle et les droits de résiliation, avec une discussion pratique sur la façon dont les développeurs indépendants peuvent se protéger dans chaque cas. Michael comparera l'accord de WhiteThorn Games avec le contrat d'édition que Raw Fury a mis à disposition et que Michael a examiné dans une conférence précédente de GamePlay Space.
Ceci est un événement hybride - il aura lieu en personne au GamePlay Space et sera diffusé en direct sur Zoom. Des billets en personne et en ligne sont disponibles.
Nos membres ont accès gratuitement à cet événement. Vous n'êtes pas encore membre ? Devenez-le maintenant.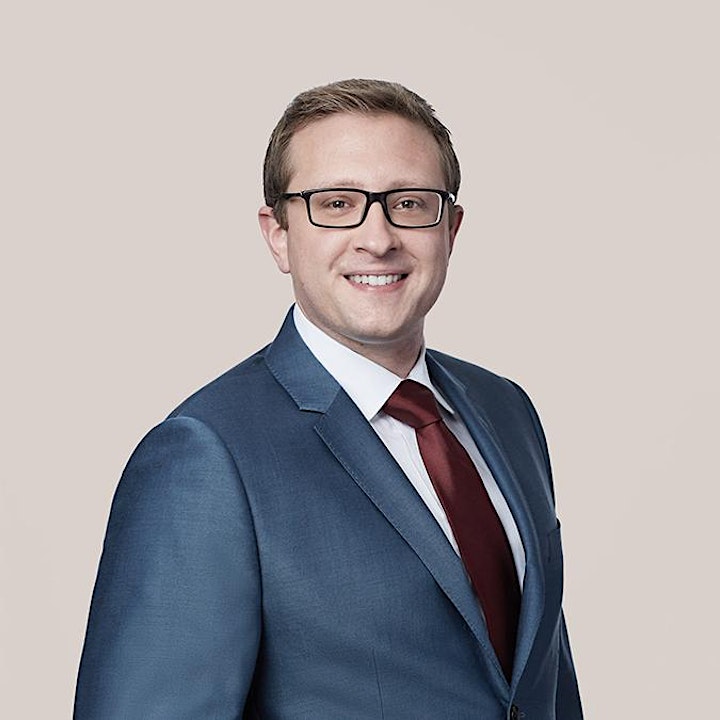 Michael Shortt, Lawyer and Trademark Agent:
Michael Shortt is a lawyer and trademark agent who specializes in Intellectual Property law and litigation. He is the founder and co-chair of Fasken Martineau's video game industry group. Michael drafts and negotiates publishing agreements, freelancer contracts, EULAs, and other key legal documents for video game studios, in his video game practice. As a litigator, he argues cases everywhere, from the Copyright Board to the Supreme Court of Canada. In 2020, he was recognized as a "Rising Star" in the field of intellectual property by two international ranking bodies. He is currently part of a team representing the Entertainment Software Association of Canada before the Supreme Court in a case about how much video game studios should pay for music used in games sold online.
Contact info: https://www.fasken.com/en/michael-shortt
------------------------------------------------------------------------------
Michael Shortt, Avocat et agent de marques de commerce :
Michael Shortt est un avocat et agent de marques de commerce spécialisé en droit et contentieux de la propriété intellectuelle. Il est le fondateur et coprésident de la division de l'industrie du jeu vidéo de Fasken Martineau. Dans sa pratique légale concernant l'industrie du jeu vidéo, Michael rédige et négocie des accords d'édition, des contrats de pigiste, des CLUF et d'autres documents juridiques clés pour les studios de jeux vidéo. En tant qu'avocat plaidant, il plaide des causes partout, de la Commission du droit d'auteur à la Cour suprême du Canada. En 2020, il a été reconnu « Rising Star » dans le domaine de la propriété intellectuelle par deux organismes de classement internationaux. Il fait actuellement partie d'une équipe représentant l'Association canadienne du logiciel de divertissement devant la Cour suprême dans une affaire concernant le montant que les studios de jeux vidéo devraient payer pour la musique utilisée dans les jeux vendus en ligne.
Informations de contact: https://www.fasken.com/en/michael-shortt
This event is made possible thanks to: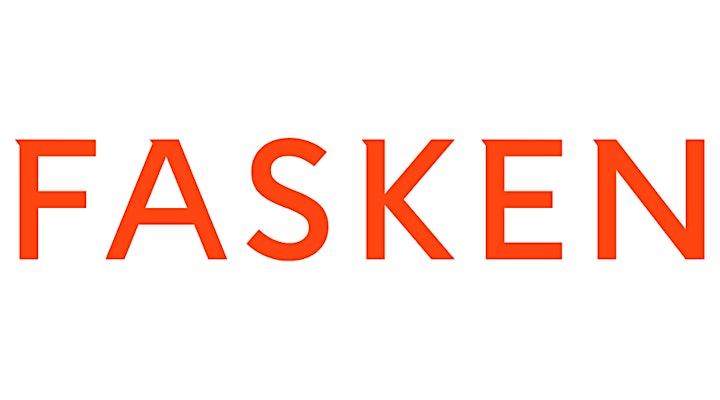 Who is GamePlay Space?
GamePlay Space is a non-profit that is dedicated to supporting and enabling the success of video game developers by nurturing a community, sharing knowledge and creating opportunities.
Become a GamePlay Space member and join our Discord to keep up to date with our upcoming events. Follow us on Twitter, Instagram, Facebook, and LinkedIn to keep informed with community news and updates!
------------------------------------------------------------
L'Espace Ludique, c'est...
L'Espace Ludique est une OBNL qui se consacre à soutenir et à permettre le succès des développeur·euses de jeux vidéo en entretenant une communauté, en partageant des connaissances et en créant des opportunités.
Devenez un membre de L'Espace Ludique et rejoignez notre serveur Discord pour recevoir toutes nos dernières informations et événements à venir! Suivez-nous sur Twitter, Instagram, Facebook, et LinkedIn pour rester informé.es des nouvelles et des mises à jour de la communauté!