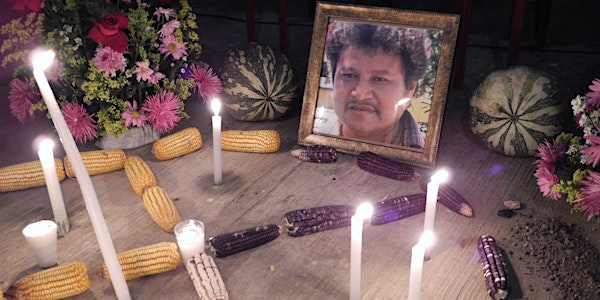 Whither Canadian Diplomacy - Enabling Mining Companies or Land and Environm...
Location
Human Rights Research and Education Centre
University of Ottawa, Fauteux Hall, Room 570
57 Louis Pasteur
Ottawa, Ontario K1N 6N5
Canada
Description
Roundtable - Whither Canadian Diplomacy: Enabling Mining Companies or Land and Environment Defenders?
In light of the government's recently developed 'Voices at Risk: Guidelines for supporting human rights defenders', this roundtable discussion proposes to examine the conflicts that arise between Canada's 'economic diplomacy' to facilitate the operations of Canadian mining companies abroad and its human rights obligations to land and water defenders speaking out about the harms they are experiencing - or trying to avoid - from the operations of many of these very same companies. With visiting guests from Mexico and Thompson Rivers University, B.C., this discussion aims to deepen debate, research and action towards consistent compliance with Canada's human rights obligations, which includes the duty to protect human rights from abuse by state and non-state parties.
Please RSVP to jen@miningwatch.ca indicating if you will attend in-person or online. Online call-in details will be provided closer to the date.
Agenda:
1:30-1:45pm Welcome and Introduction
1:45-2:45pm Canada's Economic Diplomacy & Risks to Mining-Affected People in Mexico and beyond: Experiences and Responses

Blackfire Exploration in Chiapas, Mexico: Jose Luis Abarca, son of murdered community leader, Mariano Abarca; Miguel Angel de los Santos, lawyer, the Human Rights Centre, Faculty of Law at the Autonomous University of Chiapas
Canadian mining in Guerrero, Mexico: Miguel Mijangos, Mexican Network of Mining-Affected People (REMA)
Canada's Human Rights Defender Guidelines in light of Canada's 'Economic Diplomacy' and documented cases in Guatemala: Assistant Professor Charis Kamphuis, Thompson Rivers University and co-founder of the Justice and Corporate Accountability Project
2:45-3:15pm Q&A
2:15-4:30pm Facilitated Discussion concerning Canada's 'economic diplomacy', the wellbeing of land and environment defenders, and ways forward
4:30-5:00pm Next steps
Background:
While the role of Canadian Embassies is just one of a number of vehicles through which Canadian foreign policy for the extractive sector abroad plays out, it is without doubt an important vehicle in terms of designing and implementing project-specific and policy-specific approaches at the country level. Canada's 'economic diplomacy' in this area has contributed to advancing enabling conditions for precious metals exploration and extraction in particular, including in highly militarized and violent contexts.
Whether troubleshooting for a company that is facing community resistance, persistent worker strikes, potential increases in tax and royalty payments, or violence at its operations, Embassies frequently play a lead role together with other government officials. Canadian officials also lobby and invest in programs and projects to influence country-level policies and institutions that govern the mining sector. While the Canadian government has justified this sort of influence as a good-willed exchange of technical expertise, such interventions have undermined the proposals of affected communities and civil society in other countries, as they have sought to enhance conditions for private investment.
Documentation of the specific role of the Canadian Embassy in Mexico in the case of Blackfire Exploration's operations in Chicomuselo, Chiapas between 2007-2010 provides us with considerable insights into a number of the ways that Canada's economic diplomacy can increase the danger that community leaders, like Mariano Abarca, faced with serious ramifications for their communities, organizations and networks. More recent observations and research from other parts of Mexico and Central America further shine a light on the potentially grave implications that Canadian economic diplomacy can have to undermine the self-determination and wellbeing of affected people.
This event is hosted by the Human Rights Research and Education Centre at the University of Ottawa, Mining Watch Canada, the Justice and Corporate Accountability Project (JCAP), Amnesty International Canada, and the International Civil Liberties Monitoring Project (ICLMG)
The delegation from Mexico to Canada is sponsored by Common Frontiers, the United Steelworkers Humanities Fund, the Public Service Alliance of Canada (PSAC) Social Justice Fund, Inter Pares, KAIROS, the Committee for Human Rights in Latin America (CDHAL), Council of Canadians, Latin American and Caribbean Studies at Carleton University, and United for Mining Justice