Location
90 John West Way
90 John West Way
Aurora, ON L4G 8A2
Canada
JOYFUL - Wholesome Conference - Women Enhancing Women
About this event
Looking at the pain, the loss, the suffering, the injustice of this world, you wonder...
There are many areas of lives where people cry:
That son or daughter you desire a better life for
That chronic pain, disease or ailment
Maybe for you it's your marriage
You may have been snubbed, overlooked, dismissed, made to feel invisible or less than
Have you ever hit hard seasons where you think, "Where is God?"
Wholesome Conference is presenting to anyone and everyone who feels life is not fair that Jesus isn't finished. 
"Shout for joy, O Daughter of Zion! Shout in triumph, O Israel! Rejoice, be in high spirits and glory with all your heart, O Daughter of Jerusalem [in that day]!" Zephaniah 3:14 AMP
How do we count it 'pure joy' when in the fiery furnace of adversity?
JOYFUL amplifies the lived experiences of beautiful lives we admire today through their pains, and their journey to JOYFUL and golden transformation
Join us for IN-PERSON for the first time in two years.
The event will also be streamed live on YouTube @Youtube.com/theredemptionhouse and on Facebook @TRH.TheHouse
You don't want to miss out on this and we do not want to miss you either.
Remember to share the excitement! The more people you invite, the more blessings you share, and the higher the chances for you to win prizes!
GUEST SPEAKER
ANN MAINSE
Ann Mainse shifted her focus from cancer diagnosis to an opportunity to help others in difficult situations. On July 16th at Wholesome Conference, Ann Mainse shares her story, what it was like to receive that diagnosis and what life has been like since then. Walk with us as we journey with Ann from a joyless call to JOYFUL living.
Ann was born in Fort Sam Houston, Texas, into a U.S. military family. She completed a Bachelor's degree in Business Administration. As a stay-at-home mom for 15 years, Ann often led a weekly women's Bible study in her home. She began ministering on TV in 2001 as the writer and host of the daily devotional segment on 100 Huntley Street called "Sincerely Yours", a two-year journey through the New Testament, which later became a book series. In 2005 Ann began hosting 100 Huntley Street alongside Ron, and in 2006 she launched a program with a women's focus called Full Circle. Currently, besides periodic TV appearances, Ann speaks at women's events, has a daily devotional radio segment on Joy Radio, and a daily podcast called Sincerely Yours, featured on FaithStrongToday.com. 
Ann at Wholesome Conference 2022 openly details the trials and triumphs, fears and tears from her own experience fighting cancer and invites every woman facing the tough twists and turns of everyday life to receive comfort, courage, hope and healing from God.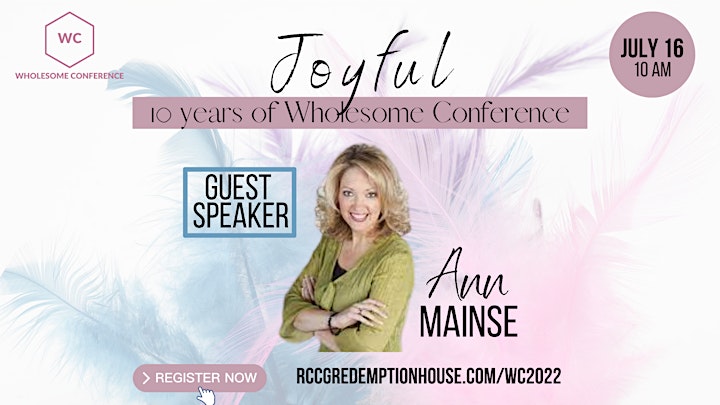 MEET OUR HOST
TOYIN ADEKUSIBE
Toyin Adekusibe is an avid leader, mentor, visionary, and coach. She is the co-ordinator of the Women Of Worth Ministry and is divinely envisioned to empower women through the Wholesome Conference - a yearly inspiration for women.
Toyin speaks passionately at Youth and Women conferences, making practical the Word of God and displaying a conscious effort to prepare all generations for a brighter future today.
She is the founder and president of "The Chosen Generation",  a charity organization that shares Christ's love by supporting women, children and families; equipping them for wholesome living.
In 2019, Toyin was recognized by the province of Ontario as one of the "Leading Women Building Communities".  
Toyin is a first generation immigrant in Canada and a school principal in an Ontario School Board. By leveraging her own lived experiences Toyin encourages and assures on how God makes beautiful things of His own children; no matter what.
Toyin is married to Fola Adekusibe a profound lawyer in the Greater Toronto Area, and the Pastor at The Redemption House in Aurora. They are blessed with two God fearing young adults, a son-in-law, a daughter-in-law and two grandsons.
Toyin believes that a culture of awareness, knowledge, and healthy relationships makes a difference in what we do and how we live. Toyin does just this as she facilitates JOYFUL.