Description
The topic of Environmental, Social and Governance (ESG) has become top of mind for many in the financial markets. Investors are increasing their engagement practices with issuers and their Boards of Directors at an accelerated pace. The Canadian Coalition for Good Governance is a coalition of institutional investors who has been focusing on improving corporate governance at Canadian public companies for over 15 years. Its membership demonstrates a growing understanding and recognition of the importance of integrating the oversight of environmental & social (E&S) factors into good board governance practices.
In 2018, CCGG published The Director's E&S Guidebook providing practical insights and recommendations for effective board oversight and company disclosure of E&S matters.This event will bring together speakers sharing their perspective on the importance of material ESG issues for boards in an evolving financial market environment.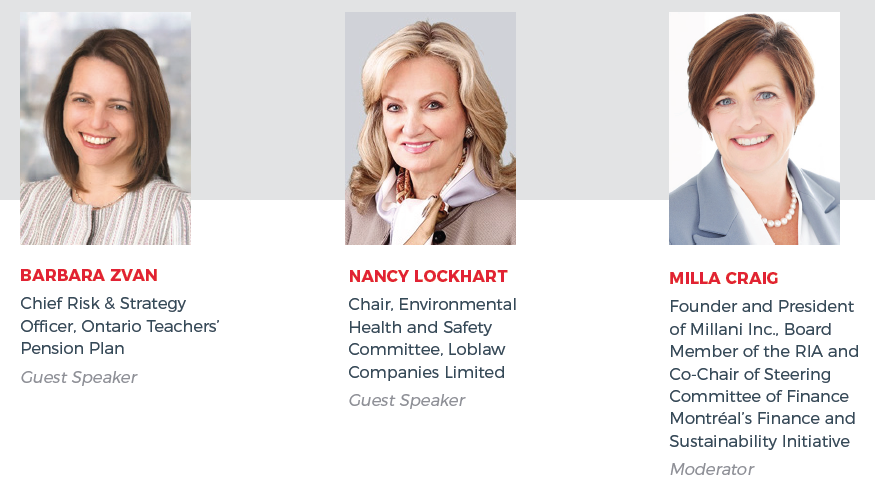 NANCY LOCKHART'S BIO
Chair, Environmental Health and Safety Committee, Loblaw Companies Limited
Ms. Lockhart is a Corporate Director and for 18 years was the Chief Administrative Officer of Frum Development Group. She is a former Vice President of Shoppers Drug Mart Corporation. Ms. Lockhart is the Director of Loblaw Companies Limited, Chair of The Board of Directors of Gluskin Shall and a Director and Chair of the Governance Committee at Atrium Mortgage Investment Corporation. Ms. Lockhart sits on a number of charitable boards in the health-care and arts sectors. Ms. Lockhart is a former board member of Barrick Gold, former trustee of Retirement Residences REIT and a former Director of the Canada Deposit Insurance Corporation. She holds the ICD.D designation from The Institute of Corporate Directors.
She was awarded The Order of Ontario in 2006 and the Queens Golden Jubilee Medal in 2012.

BARBARA ZVAN'S BIO
Chief Risk & Strategy Officer, Ontario Teachers' Pension Plan
Barbara Zvan is the Chief Risk & Strategy Officer at Ontario Teachers' Pension Plan. Ms. Zvan joined Ontario Teachers' in 1995 as an assistant portfolio manager and has risen to positions of increasing authority in risk and investments during her more than two decades at the pension plan.
In her current role, Ms. Zvan leads the Strategy & Risk team in supporting the Plan Sponsors in plan design decisions and the Board in determining the appropriate benchmarks and risk appetite. She and her team provide input and risk insights to the Investing teams and create an effective risk management framework to underpin it. In addition, Ms. Zvan drives the responsible investing and climate change risk management and strategy for the Fund and directs the Enterprise and Operational Risk Management approach for the organization.
Ms. Zvan serves as the Chair of the International Centre of Pension Management and is a member of the Government of Canada's Expert Panel on Sustainable Finance. She also serves on the boards of Cadillac Fairview, Global Risk Institute and the Canadian Coalition for Good Governance.
Ms. Zvan is a Fellow of the Society of Actuaries and the Canadian Institute of Actuaries, is a holder of the Institute of Corporate Directors designation (ICD.D) and has a Master of Mathematics degree from the University of Waterloo.
Please note that the session will be held in English.