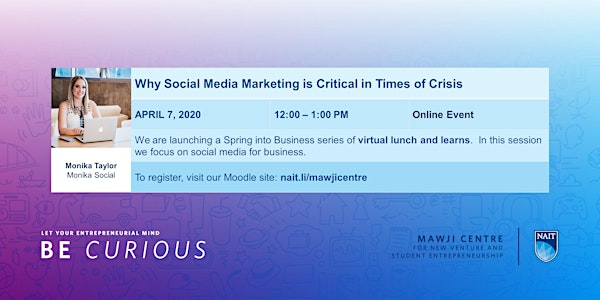 Why Social Media Marketing is Critical for Business in Times of Crisis
Description
We are launching a Spring into Business series of virtual lunch and learns. In this session we focus on social media for business.
For businesses social media marketing is more important than ever. It's a chance to become a business leader and build a stronger community. Informative and positive messaging sets companies apart from their peers. Stay connected online!
This session will be led by Monika Taylor.
Monika is the sole proprietor of Monika Social, an Edmonton based marketing consultant business that specializes in social media engagement. As a NAIT Alumni, Monika Taylor successfully completed a marketing diploma and then went on to work in the marketing industry for two years. Seeking to expand her knowledge and skills, Monika went back to NAIT and completed another diploma in human resources while continuing to work full time. After gaining ten years of industry experience at Home and Land developers, Monika decided it was time to start her own marketing business. Since beginning her business, Monika was able to build a clientele in which she manages and helps expand their consumer demand through social media reach. Monika's passion and resilience is reflected in her work through coaching, hosting interactive workshops, public speaking and more with various local organizations.
All registered attendees will receive webex instructions the morning of April 7th.