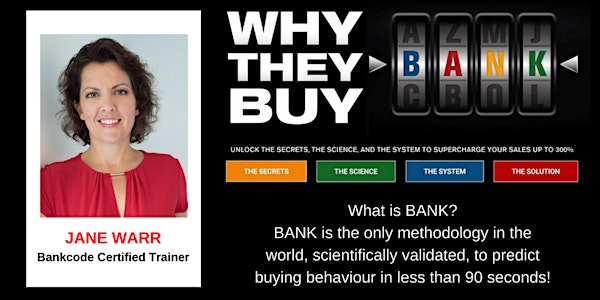 Why They Buy - Webinar for Entrepreneurs, Business Owners and Sales Profess...
Location
Zoom Webinar
Zoom
ON
Canada
Description
Have you ever heard that sales is a numbers game and that in order to get more YES's you have to get more NO's? Well what if sales isn't a numbers game? Stop leaving money on the table. Not knowing this information could be costing you tens of thousands or hundreds of thousands of dollars per year!
We will show you the Secrets, the Science, and the System to supercharge your sales.
B.A.N.K. is the only methodology is the world, scientifically validated, to predict buying behaviour, in less than 90 seconds.
Learn to:
- Get more prospects
- Create larger deals
- Convert more sales
- Close sales faster
If you are ready to turn those NO's into YES's and make more money in less time, register for this webinar.
Entrepreneurs • Sales Professionals • Business Owners • Direct Sales • Network Marketing • Financial Services • Real Estate • Professional Services • Online Marketing • Personal Relationships • Speakers • Authors • Coaches • Business Consultants • Corporate Sales • Employees • Leadership • Executives • Education • Non-Profits • And More
Master the science of Communication, Negotiation, and Closing More Sales.
Register Today! -
FREE to participate!
---


To learn your personality code, go to: www.mybankcode.com/TrainerJane
"The ability to sell is the number one skill in business." - Robert Kiyosaki, World Renowned Speaker, Coach, Best-Selling Author
"The B.A.N.K. Code Assessment™ is a quick, reliable, and valid measure of personalities that predicts buying behavior and increases your probability of closing the sale." - Dr. Ryan T. Howell, PHD Associate Professor of Psychology | San Francisco State University Co-Founder | Beyond The Purchase
"B.A.N.K. is a game changer for every entrepreneur and sales professional. This system will strengthen your confidence, expand your selling skills and dramatically increase your income." - Les Brown, World Renowned Motivational Speaker, Coach, Best-Selling Author