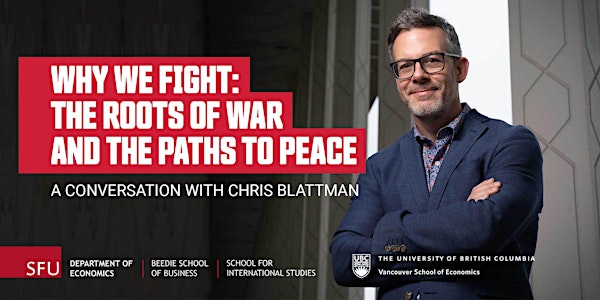 Why We Fight: The Roots of War and the Paths to Peace
Economist Christopher Blattman discusses his recent highly-acclaimed book examining root causes and remedies for war.
When and where
Location
SFU Segal Building - S 1200 -1500 Event rooms 500 Granville Street Vancouver, BC V6C 1W6 Canada
About this event
Simon Fraser University's Department of Economics, in collaboration with the School for International Studies, the Beedie School of Business and UBC's Vancouver School of Economics, is proud to present a fireside chat with Christopher Blattman where he will discuss his recent book, "Why We Fight: The Roots of War and the Paths to Peace".
Why We Fight draws on decades of economics, political science, psychology, and real-world interventions to lay out the fundamental causes and remedies for war, showing that violence is not the norm. Blattman offers five key reasons why conflict occasionally wins over compromise, and shows how peacemakers turn the tides through tinkering, not transformation. This timely conversation is sure to offer an interesting perspective on current events, including the Ukraine-Russia conflict and US-China tensions.
About the Speaker
Christopher Blattman is the Ramalee E. Pearson Professor of Global Conflict Studies at the University of Chicago, where he co-leads the Development Economics Center and directs the Obama Foundation Scholars program. He uses field work and statistics to study poverty, political engagement, the causes and consequences of violence, and policy in developing countries. An eminent economist and eloquent speaker, his work on violence, crime, and poverty has been widely covered by The New York Times, The Washington Post, The Wall Street Journal, Financial Times, Forbes, Slate, Vox, and NPR. He also runs a popular blog at https://chrisblattman.com/blog/.
About the Event
This public event is supported by the Department of Economics, School for International Studies, FASS, and the Beedie School of Business's Centre for Corporate Governance and Sustainability at SFU, and the Vancouver School of Economics at UBC. The event will be recorded--please email econrsch@sfu.ca to access the recording.