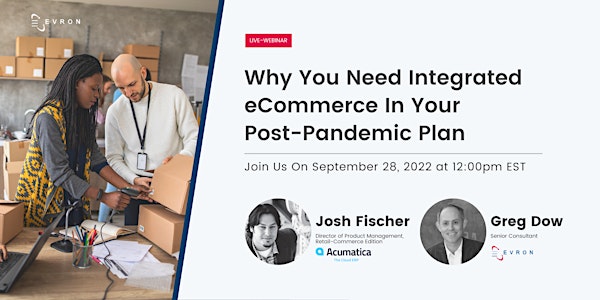 Why You Need Integrated eCommerce In Your Post-Pandemic Plan
Join us for thought leadership and innovative discussions on cutting-edge cloud technology for the eCommerce industry.
About this event
Consumers' buying habits mould how customers are served; from the buying experience to the order arriving in their hands, there are many moving parts. Now is the time to explore and plan how you can elevate the buyers' journey and earn more revenue with ease.
No matter your products and services, sector or industry, your business needs to be optimized and adaptable for the eCommerce experience.
For this webinar, we are joined by Acumatica's Director of Product Management, Josh Fischer, an expert in the retail and eCommerce industry who has assisted SMBs in growing their business with eCommerce. He will dive into the why's of eCommerce technology and why now is the time to embrace the omnichannel eCommerce experience. After we understand why this is important, we will explore how you can achieve operational success and high customer satisfaction with the leading industry-specific cloud ERP.
What you will learn from this webinar:
• How to reduce stock-outs and back orders
• Ways to effectively track and share inventory levels in real-time
• Reduce hurdles for operational expenses
• Improve customer satisfaction
• How to gain access to actionable dashboards and reports from anywhere