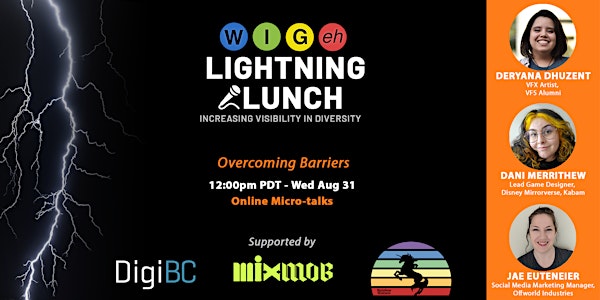 WIGeh + DIG August Lightning Lunch on Zoom!
WIGeh + DIG is hosting another online Lightning Lunch! Short presentations with practical takeaways to support DE&I in the games industry.
About this event
About this event
Women in Games Vancouver + Diversity in Games is excited to present another Lightning Lunch!
Increasing visibility in diversity for creative tech, generously supported by DigiBC, Rainbow Unicorn Games and MixMob.
Bring your lunch and join us on Zoom for an online learning session, featuring a series of short presentations with insights and practical takeways on supporting diversity and inclusivity in games production and the broader industry.
For this month's Lightning Lunch, we'll be taking a look into Overcoming Barriers.
Speakers:
★ Deryana Dhuzent (She/Her), VFX Artist - VFS alumni on "Surviving to Thriving"
★ Dani Merrithew (They/Them), Lead Game Designer, Kabam on "Designing with Dyslexia"
★ Jae Euteneier (She/They/Fae), Social Media Marketing Manager, Offworld Industries on "It's Never a Squirrel"
When: Wednesday August 31, 12:00 - 1:00pm PDT
3 x 10 minute presentations followed by Q+A and Door Prizes!
Join us for light networking after the event in the Zoom, or resync later in the evening on our Discord video chat channel!
RSVP to reserve your place now!
*The event is free to attend but space is limited, so please register in advance!
*A zoom link will be sent out the day before the event.
*This event is open to individuals of any gender identity.
Want to keep the conversation going between events? Join our Discord Channel to stay in the loop and reconnect with the community! https://discord.gg/qzbC4NBumM
------------------------------------------------------------------------------------------
ATTENDANCE NOTES:
1) Gender:
This event is open to individuals of any gender identity.
2) Code of Conduct:
By attending this event, you agree to adhere to WIGeh's code of conduct, which you can find at https://www.womeningamesvancouver.com/code-of-conduct
3) Privacy and Photography:
Online WIGeh events use Zoom, and as shared video is seen by all attendees we cannot guarantee that no photos or screenshots will be taken of you during the event. We love it when our members connect at our events using both video and audio, but we understand if anyone prefers to participate with their video turned off for privacy reasons. If any recordings or screen shots are made by the event team we will provide advance notice of our intent to do so.
Speaker Bio - Deryana Dhuzent
Deryana Dhuzent (She/Her) is an alumni from video game programming at Vancouver Film School, Web Development at Ironhack, and Digital Illustration at ESCENA and a proud mom of a fur baby named Yuuki! In 2020 she worked on "SoulMaze" at VFS where she did VFX Art and Gameplay Programming, which ended up winning Best Team Project! She also worked on the project "Scrapped" acting as the project manager, technical artist, and cross-discipline communicator. Deryana is crazy in love with cats, and is an advocate of equal rights, mental health, and stopping violence of all kinds. In her free time, you can find her playing Stardew Valley, painting, and doing anything crafty.
Speaker Bio - Dani Merrithew
Dani Merrithew (They/Them) is the Lead Game Designer at Kabam on Disney Mirrorverse, a co-organizer of Diversity in Games, and the proud owner of 4 fur babies and approximately 60 house plants! An Empath by nature, Dani leans heavily into leading and pushing for change with empathy, courage, and empowerment at the forefront. Dani continues to challenge the industry status quo that a Lead does not need to be the loudest in the room, but they should strive to be the kindest! Additionally, they are a passionate activist who pours a lot of their emotional bandwidth into 2SLGBTQIA+, Women's, BIPOC, and animal rights. Outside of work, you can catch Dani caring for their menagerie of animals; Zesta, a 7yo rescue tripod Shiba Inu. Gizmo, a 11yo rescue short haired black cat. Ganymede, a cockatiel rescued off the beach and Donut, a sweetest lil' ouch mouse hedgehog.
Speaker Bio - Jae Euteneier
Jae Euteneier (She/They/Fae) is a Social Media Marketing Manager at Offworld Industries, and has been working in games and tech for around 8 years in what they refer to as 'Front-Facing Roles'. In their spare time along with playing a variety of games, she helps neurodivergent people understand themselves and neurotypical people understand their friends. Her hobbies include trying new hobbies, and the current hobby is crocheting. Her student project for VanArts was the first mobile game made as a portfolio piece there and they continue to design and make digital and non-digital interactive experiences.