Event Information
Refund Policy
Contact the organizer to request a refund.
Eventbrite's fee is nonrefundable.
You are warmly welcomed to join us to dance together in community , looking out over the harbour lights and spectacular city views.
About this Event
You are invited to join our growing, outdoor dance tribe in a 90 minute Ecstatic Dance Wave, wearing Silent DJ headsets. No dance experience is necessary-- you are welcome to bring friends new to conscious dance. Come move your body however it wants to move. Dance your own dance... shake it out, jump for joy, be in stillness.
Please note, we are covid-approved and have our WorkSafeBC-approved safety plan posted. By participating, you are agreeing to follow our safety plan posted below.
Thank you everyone for your ongoing support and encouragement these past weeks. Community & caring is what it is all about. I feel so much gratitude for each & every one of you.
-Mary
💚
You are warmly invited to join the dance-- to move in community, shake it off, connect with self, others, and nature. We dance to local and global DJs streamed into silent DJ headsets. I have confirmed that we are approved to have outdoor dance classes for mental & physical health needs, following the posted safety plan (see below). Soak in the natural beauty, take in the spectacular harbour view. There are quiet nooks where you can find space on your own to move whatever needs to move.
Parking on Erie St., in the Robbins lot, or on nearby streets
FLOW OF TIME
7:15pm -Warmup music & headset pick up, sign covid symptom waiver.
7:30-9pm- ecstatic dance wave where you can dive deep solo or dance with others in your household bubble, letting your body lead the way.
WHAT TO BRING: Flashlight/red headlamp, LOTS of water; warm layers, hat, gloves, masks encouraged during headset pickup & drop-off, not required while dancing. Yoga mat or towel if you like to stretch at the beginning or lie down and skygaze at the end.
Occasionally Asked Questions:
1. Will it be too cold?- We don't find our bodies get cold because we are moving. Some of us wear light silk long underwear shirts under our clothes and dance without a coat, just adding warmer layers once the music and movements get slower & we cool down. Gloves & hat are a good idea.
2. I feel self conscious dancing in public. How private is it?- Occasionally the public dog-walk by and barely look at us. Dancers tell me they worried about feeling self-conscious the first time and "it melted within seconds"... and there are quiet nooks to find more solitude in.
3. What if it rains?- As long as it is light, misty rain: we can dance with bouffant-sized shower caps provided. If rain is in the forecast, bring waterproof hoods & umbrellas.
4. What other classes do you offer? Currently, Sundays at 10:15am and 1:15pm at the south end of Willows Beach off Bowker, St., plus sunny day pop-up dances. Soon we will offer outdoor mindfulness classes and dance classes to variety of musical genres. Website coming soon: silentdjvictoria.com
All ages, abilities, races, gender expressions are welcome. No dance experience necessary. Please no talking on the dance floor once the music begins. This allows us all to dive deep into our movement medicine.
PAY WHAT YOU CAN SLIDING SCALE:
Suggested- $15-$25
$15- Income Affected
$18-Regular
$20- Supporter
$22- Booster
$25- Patron/ paying for another's dance
$10-Kids
$40- families up to 2 partnered adults & related kids
LIMITED NUMBERS:
Pay by credit card on this Eventbrite page
e-transfer: info@silentdjvictoria.com to reserve headphones
or pay exact cash on arrival, space permitting
We are all connected. We are not alone, though sometimes we forget that. When we dance together we hack happiness chemicals, we release emotions that can get stuck in our bodies, we build resilience, and we create community. A village of embodied souls. Come join the village!
Lovingly brought to you by Mary Lloyd, founder of Silent DJ Victoria Outdoor Dance (B.A. Psychology, Kinesiology, Contemporary Dance; dip. Applied Communications) Mary is a certified Therapeutic Dance instructor and lifelong dancer who facilitates inclusive dance circles in schools, with local agencies, and in outdoor public spaces. Mary has a broad background in movement & dance, spanning decades of ballet, contemporary dance, authentic movement, NIA®, 5Rhythms® movement medicine, ecstatic/conscious dance, and embodied equity.
We gratefully gather & dance on the unceded territory of the Lekwugen-speaking peoples of the Coast Salish family--the Songhees & Esquimalt Nations.
********************************************************
WORKSAFE BC COVID SAFETY PLAN
PLEASE RETURN HOME TO REST IF YOU ANSWER YES TO ANY OF THE FOLLOWING:
1. Do you have any of the following symptoms?
Fever
Chills
Cough or worsening chronic cough
Shortness of breath
Sore throat
Runny/stuffy nose
Loss of sense of smell or taste
Headache
Fatigue
Diarrhea
Loss of Appetite
Nausea and vomiting
Muscle Aches
Pink Eye
Dizziness /Confusion
Abdominal Pain
Skin rashes or finger/toe discolouration
2. Have you or anyone in your household returned form travel outside Canada in the last 14 days?
3. Are you or is anyone else in your household a confirmed contact of a person confirmed to have Covid-19?
WE ARE A COVID-CONSCIOUS OUTDOOR CLASS; PLEASE NOTE AND FOLLOW:
DISTANCING-
Distancing of minimum 2 metres in effect
You may dance within your household bubble
Please disperse shortly after class ends and do not socialize with those outside of your bubble
HEADPHONE USE-
Please use the hand sanitizer provided before headset pickup
Participants only are to touch their headsets, no one else
At the end of class, please turn OFF headsets and place in the "Used" bin provided
After use, headsets are quarantined, run through a UV-C sterilizer, and wiped
MASKS-
-masks are recommended as you arrive to pick up your headsets and as you drop off your headsets and leave
-masks are welcomed, not required while dancing
THANK YOU FOR YOUR COOPERATION & SUPPORT. STAY WELL & HAVE A GOOD DANCE!
Join our email list or Silent DJ Facebook group for the latest on upcoming Events. Website coming soon.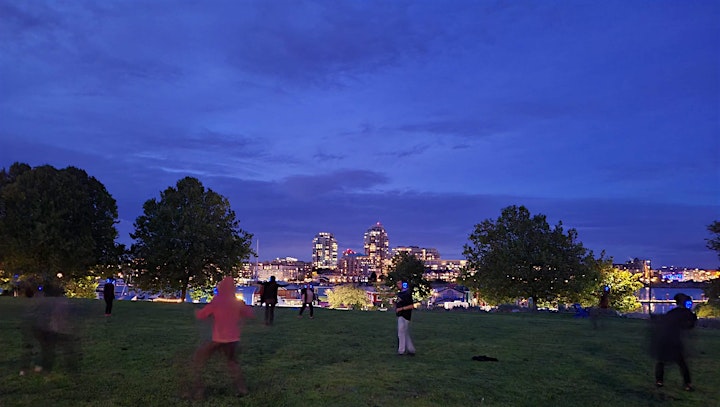 Date and Time
Location
Refund Policy
Contact the organizer to request a refund.
Eventbrite's fee is nonrefundable.