Description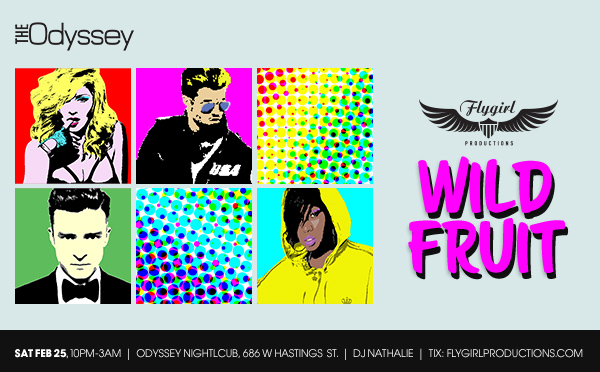 V-Day hangover? Your cure is at Wild Fruit—this month for the first time at the Odyssey. New venue, same 90s, 2000s hits that will get you dancing, singing, and being silly (read: having a wicked time).
More about the new Odyssey:
Now under a new management team, the Odyssey is about to undergo the next evolution of its identity: a revamped community event space. For you Vancity veterans, you may remember the Odyssey as the funnest gay club with the best music in the city a few years ago before changing locations. Come, bring your friends, and enjoy the new digs for this month. ;)
MISSY ELLIOT | Madonna | JUSTIN TIMBERLAKE | BackStreet Boys | DESTINY'S CHILD | Spice Girls | DAFT PUNK | Nirvana | NELLY | No Doubt | BRITNEY | 50 Cent | KYLIE | Beastie Boys | SNOOP DOGG | Fatboy Slim | USHER | Whitney | RHCP | Mariah | KYLIE | Britney | OUTKAST | The Killers | TLC + MORE
Drink Specials: $5.00 Hopping Mad | $6.50 Double Killer Koolaid | $6.50 Double Long Islands
Celebrating a birthday or stagette email info[at]flygirlproductions.com to see how we can help you make it special.

---
Tickets available at:
Online www.flygirlproductions.com in advance.
As always (aka. the last 15+ years), everyone welcome!
---
FAQs
Can my straight, gay, Bi, trans, queer friend attend the party?
All Flygirl parties have been and always will be inclusive. Absolutely EVERYONE is welcome! For the last 15+ years, Flygirl has been and continues to be a diverse team of wholesome, inspiring, fun & badass local humans that identity along the entire gender and sexuality spectrums. We love all colours of the rainbow. :)

Are there ID requirements or an age limit to enter the event?
Legal drinking age in British Columbia is 19 years old. BC Liquor Licensing laws require all patrons, regardless of age, to have 2 PCS of ID on their person, at all times.
How many tickets can I purchase in one order?
There is a 10 ticket per person limit for each event.
Do I have to print my eticket?
You can print your eticket and bring to the door OR you can go paperless by downloading Eventbrite App after your ticket purchase. No tickets will be mailed.
What is your refund policy?
We have a no refund policy with the exception of the event being cancelled.
Do you take pictures and video at the parties?
All events will be videotaped and photographed and the images may be used in promotional materials.
Note: Artists are subject to change and or replacement, including dates of performance and scheduled talent. Should we cancel a date entirely, we will either offer a replacement date or refund your ticket. Flygirl is not responsible for errors and omissions.