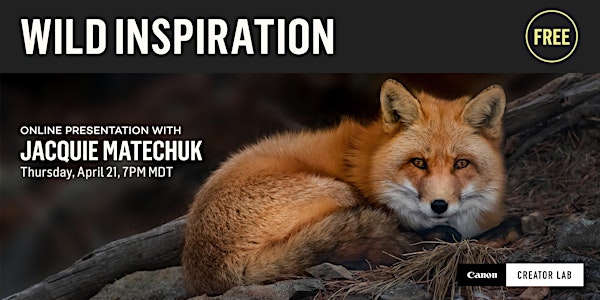 Wild Inspiration with Jacquie Matechuk
Let's tap into the power of Canon's technology and embrace the pristine beauty of our wilderness and all those that call her home!
About this event
With most genres of photography, we exist in various levels of inspiration at all times. So whether you're looking to rekindle your own love of photography, or wanting to capture imagery that will speak to and inspire others; tonight we'll explore how to find and capture inspiration in the wild. From leveraging the advantages of Canon's robust features, to simple techniques you can incorporate tomorrow to produce a more diverse and engaging portfolio.
Starting her journey behind the lens on the circuit of the Canadian Superbike Series, Jacquie Matechuk has always created images with a photojournalistic inspiration. Images that have the allure to pull you in and keep you thinking. Whether Jacquie is photographing epic sceneries, iconic architecture, action wildlife, or extreme sports, the goal remains the same: put your audience in the moment so they can set their mind free.
Canon Canada Futures Mentor
Global launch of Canon R3
MPA, Master of Photographic Arts
2021 World Photographic Cup Medallist