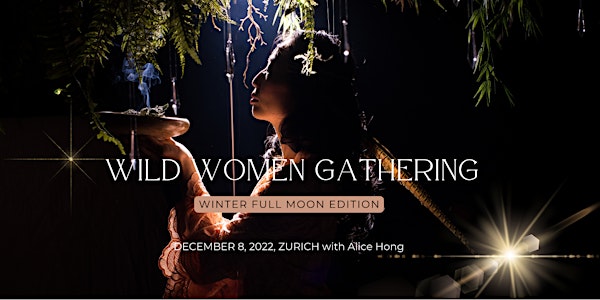 Wild Women Gathering Zurich - Winter Full Moon Edition
A women's gathering and evening of magic, wonder, and rituals for wrapping up all loose ends from the old year… so you can bloom into the ne
When and where
Location
Kulturhaus Helferei 13 Kirchgasse 8001 Zürich Switzerland
Refund Policy
Contact the organizer to request a refund.
About this event
 𝐅𝐮𝐥𝐥 𝐌𝐨𝐨𝐧 𝐖𝐢𝐥𝐝 𝐖𝐨𝐦𝐞𝐧 𝐆𝐚𝐭𝐡𝐞𝐫𝐢𝐧𝐠 
Bring completion to the old year and dream a new dream for 2023
This holiday season, come alive again in one magical evening…
With the typical hustle and bustle of the holidays, December can feel like the most draining month.
What is supposed to be a time for heart nourishment, getting together, and turning inwards has become a major source of stress and overwhelm.
But it doesn't need to be like this.
𝘛𝘩𝘦𝘳𝘦 𝘪𝘴 𝘢 𝘨𝘦𝘯𝘵𝘭𝘦𝘳 𝘸𝘢𝘺.
A way of introspection, grieving, and letting go of what no longer serves you.
But also visioning: Sourcing wisdom in the darkness and connecting to the highest vision of YOU.
If you long for a respite and some much-needed self-care this Christmas, join us for this year's final…
𝐅𝐮𝐥𝐥 𝐌𝐨𝐨𝐧 𝐖𝐢𝐥𝐝 𝐖𝐨𝐦𝐞𝐧 𝐆𝐚𝐭𝐡𝐞𝐫𝐢𝐧𝐠
8th December, live in Zurich
18:30 - 21:30
A night of magic, wonder, and rituals for wrapping up all loose ends from the old year… so you can bloom into the next highest version of yourself in 2022.
"𝘛𝘩𝘪𝘴 𝘸𝘢𝘴 𝘮𝘺 𝘧𝘪𝘳𝘴𝘵 𝘨𝘢𝘵𝘩𝘦𝘳𝘪𝘯𝘨 𝘰𝘧 𝘸𝘰𝘮𝘦𝘯, 𝘢𝘯𝘥 𝘐'𝘮 𝘴𝘵𝘪𝘭𝘭 𝘧𝘦𝘦𝘭𝘪𝘯𝘨 𝘭𝘪𝘬𝘦 𝘐'𝘮 𝘭𝘪𝘷𝘪𝘯𝘨 𝘰𝘯 𝘢 𝘤𝘭𝘰𝘶𝘥 𝘰𝘧 𝘭𝘰𝘷𝘦."
~𝘋𝘢𝘸𝘯
𝐌𝐞𝐞𝐭 𝐲𝐨𝐮𝐫 𝐟𝐚𝐜𝐢𝐥𝐢𝐭𝐚𝐭𝐨𝐫𝐬
Hi, I'm Alice Hong.
I coach women to get out of their restless minds and into their delicious bodies, so they can create a life and business that's full of intimacy and joy. I have facilitated women's circles for over 12 years, guiding women home to the wild wisdom of their bodies and hearts through the power of sisterhood.
Hello, I'm Sabina Elsa Astolfi
I'm a singer, voice healer, voice coach and mantra yogini. I use voice work, mantras and song to help people like you express their truest, most authentic selves by rediscovering the power and grace of their voices.
​​"𝘌𝘷𝘦𝘳𝘺𝘵𝘩𝘪𝘯𝘨 𝘢𝘣𝘰𝘶𝘵 𝘵𝘩𝘪𝘴 𝘥𝘢𝘺 𝘸𝘢𝘴 𝘮𝘢𝘨𝘪𝘤… 𝘵𝘩𝘦 𝘴𝘪𝘯𝘨𝘪𝘯𝘨, 𝘵𝘩𝘦 𝘵𝘦𝘢𝘳𝘴, 𝘵𝘩𝘦 𝘭𝘢𝘶𝘨𝘩𝘵𝘦𝘳. 𝘐 𝘩𝘰𝘱𝘦 𝘵𝘩𝘢𝘵 𝘦𝘷𝘦𝘳𝘺 𝘸𝘰𝘮𝘢𝘯 𝘪𝘯 𝘵𝘩𝘦 𝘸𝘰𝘳𝘭𝘥 𝘨𝘦𝘵𝘴 𝘵𝘰 𝘦𝘹𝘱𝘦𝘳𝘪𝘦𝘯𝘤𝘦 𝘵𝘩𝘪𝘴 𝘴𝘪𝘴𝘵𝘦𝘳𝘩𝘰𝘰𝘥!"
~𝘊𝘢𝘳𝘦𝘺
𝐖𝐞𝐥𝐜𝐨𝐦𝐞 𝐭𝐡𝐞 𝐰𝐢𝐬𝐝𝐨𝐦 𝐨𝐟 𝐭𝐡𝐞 𝐝𝐚𝐫𝐤, 𝐰𝐢𝐭𝐡 𝐭𝐡𝐞𝐬𝐞 𝐟𝐨𝐮𝐫 𝐩𝐢𝐥𝐥𝐚𝐫𝐬:
♢ Shamanic Ritual: What are the loose ends you have to tie up for the year?
What is left to be spoken? What needs to come to completion?
♢ Darkness Meditation: A tantric practice of embracing the unknown and restoring your senses
♢ Sisterhood: Drop your masks and meet in truth, authenticity and form meaningful connections with other women
♢ Sacred Song: Liberate your voice and access the power of your own vibration
Join us for a special event where we gather in courage, rawness, truth, beauty and love. We'll sing, dance, laugh, connect, share, shed some tears, and become WILD together.
Because we are better together, and together, we rise!
>>> Please invite your sisters and loved ones… your mother, daughter, grandmother, best friend, co-worker… all are welcome.
No experience is necessary.
"𝘞𝘩𝘢𝘵 𝘢𝘯 𝘪𝘯𝘤𝘳𝘦𝘥𝘪𝘣𝘭𝘦 𝘦𝘹𝘱𝘦𝘳𝘪𝘦𝘯𝘤𝘦 𝘵𝘰 𝘣𝘦 𝘪𝘯 𝘢 𝘳𝘰𝘰𝘮 𝘧𝘶𝘭𝘭 𝘰𝘧 𝘸𝘰𝘮𝘦𝘯, 𝘸𝘪𝘵𝘩𝘰𝘶𝘵 𝘤𝘰𝘮𝘱𝘦𝘵𝘪𝘵𝘪𝘰𝘯, 𝘸𝘪𝘵𝘩𝘰𝘶𝘵 𝘫𝘶𝘥𝘨𝘮𝘦𝘯𝘵. 𝘐 𝘩𝘢𝘷𝘦 𝘯𝘦𝘷𝘦𝘳 𝘧𝘦𝘭𝘵 𝘴𝘰 𝘢𝘤𝘤𝘦𝘱𝘵𝘦𝘥 𝘢𝘯𝘥 𝘴𝘦𝘦𝘯!"
~𝘑𝘰𝘺
This is the final 2022 Wild Women Gathering in Zurich, live on December 8th.
We're celebrating the last full moon of the year with candlelight, piano music, and powerful rituals for completing the old and calling in a new vision for 2023.
𝐉𝐨𝐢𝐧 𝐮𝐬!
CHF 45.-
All profits will be donated to chairty.
"𝘈 𝘨𝘢𝘵𝘩𝘦𝘳𝘪𝘯𝘨 𝘸𝘩𝘪𝘤𝘩 𝘭𝘪𝘷𝘦𝘥 𝘶𝘱 𝘵𝘰 𝘪𝘵𝘴 𝘯𝘢𝘮𝘦𝘴𝘢𝘬𝘦. 𝘈𝘯 𝘪𝘯𝘤𝘳𝘦𝘥𝘪𝘣𝘭𝘦 𝘰𝘱𝘱𝘰𝘳𝘵𝘶𝘯𝘪𝘵𝘺 𝘵𝘰 𝘤𝘰𝘯𝘯𝘦𝘤𝘵 𝘢𝘯𝘥 𝘣𝘶𝘪𝘭𝘥 𝘤𝘰𝘮𝘮𝘶𝘯𝘪𝘵𝘺 𝘸𝘪𝘵𝘩 𝘢 𝘵𝘳𝘪𝘣𝘦 𝘰𝘧 𝘸𝘰𝘮𝘦𝘯 𝘰𝘧 𝘢𝘭𝘭 𝘢𝘨𝘦𝘴 𝘢𝘯𝘥 𝘣𝘢𝘤𝘬𝘨𝘳𝘰𝘶𝘯𝘥𝘴. 𝘛𝘩𝘦 𝘱𝘰𝘵𝘦𝘯𝘤𝘺 𝘰𝘧 𝘵𝘳𝘢𝘯𝘴𝘧𝘰𝘳𝘮𝘢𝘵𝘪𝘰𝘯 𝘦𝘹𝘱𝘦𝘳𝘪𝘦𝘯𝘤𝘦𝘥 𝘢𝘯𝘥 𝘤𝘶𝘭𝘵𝘪𝘷𝘢𝘵𝘦𝘥 𝘪𝘯 𝘵𝘩𝘪𝘴 𝘨𝘳𝘰𝘶𝘱 𝘸𝘢𝘴 𝘱𝘳𝘰𝘧𝘰𝘶𝘯𝘥. 𝘔𝘺 𝘣𝘦𝘭𝘪𝘦𝘧 𝘪𝘯 𝘮𝘢𝘨𝘪𝘤 𝘩𝘢𝘴 𝘣𝘦𝘦𝘯 𝘳𝘦𝘢𝘧𝘧𝘪𝘳𝘮𝘦𝘥." ~𝘑𝘦𝘯𝘯