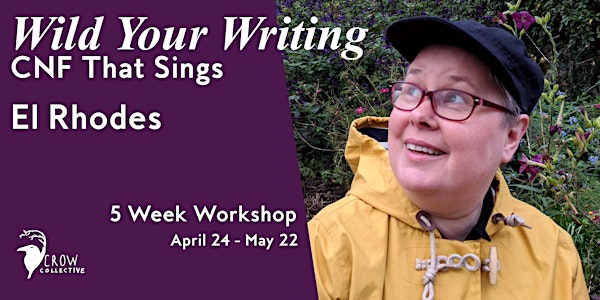 Wild Your Writing: 5 Week Workshop with El Rhodes starts April 24
Come and *Wild Your Writing* - drafting Narrative and Creative Non-Fiction that sings on the page!
About this event
What will be covered in this workshop?
Come and join a five week workshop to help you write the most evocative Creative Non-Fiction of your life. Using a unique structure the five week/ten hour synchronous programme covers five crucial aspects of writing compelling, satisfying and interesting creative and narrative non-fiction:
Week 1. Finding your voice, finding your story:
How to get started on a new piece of writing
Week 2. Writing from the gut:
How to get that initial draft down on the page
Week 3. Writing from the head:
How to uncover the 'story' you really want to tell
Week 4. Writing from the heart:
How to edit and revise so that your prose goes deeper still, and takes the reader with you
Week 5. Nailing the openings and endings, and finding a title that sings:
How to draft a compelling opening, land those last few lines, and find a title that does plenty of the heavy lifting!
Whether you're writing memoir, life-writing, nature, travel, ekphrastic or historical prose this workshop will provide space to explore, develop and deepen your non-fiction writing. With supportive opportunities to share and get feedback on work-in-progress, these are affordable and accessible sessions from an award winning writer and facilitator, of thirty years experience.
Will I have a chance to share my work?
There will be regular chances throughout the five weeks to share work-in-progress and receive constructive and supportive feedback in the group. (Guidance on how to give and receive feedback will be sent before the five weeks begins.)
Who is teaching this workshop?
El Rhodes is an archaeologist who lives in Cardiff and Wiltshire. She writes a range of prose and prose poetry and is widely published and anthologised. She also writes a quarterly column for Spelt Magazine on rural issues. Her CNF manuscript 'My Family & Other Folklore' was recently long-listed for Canongate's Nan Shepherd Prize and she won the Elliott & Thompson 'Spirit of Summer' Flash CNF prize. Other prose work has been nominated this year for the BIFFY50, the BOTN, and the Pushcart Prize.
When does this workshop happen?
April 24: Sunday, 9 AM - 11 AM EDT / 2 PM - 4 PM BST
May 1: Sunday, 9 AM - 11 AM EDT / 2 PM - 4 PM BST
May 8: Sunday, 9 AM - 11 AM EDT / 2 PM - 4 PM BST
May 15: Sunday, 9 AM - 11 AM EDT / 2 PM - 4 PM BST
May 22: Sunday, 9 AM - 11 AM EDT / 2 PM - 4 PM BST
How long is this workshop?
Five weeks: two hours each week.
How much does it cost?
Approximately 50 GBP / 66 USD / 85 CAD, plus the fee Eventbrite charges for listing the event.
How is this workshop presented?
This workshop is online, live, and interactive. Participants are encouraged (but not required) to keep their video cameras on, as online events are much more fun when we can all see each other.
We'll gather on Google Meet, which is very similar to Zoom and has built-in closed captioning. I will send you the link two days before the workshop.
Will this workshop be recorded?
No, this workshop will not be recorded.
Are there more workshops?
You bet! Just click here to see the Crow Collective workshops open for registration.
Do you have a mailing list?
Yes - click here to sign up for my free, bi-weekly mailing list.
What is the Crow Collective?
Crow Collective workshops are by the writing community, for the writing community. The prices are low so they are more accessible, and there are two free spots (if needed).
Why can't I access the ticket button using the Apple Eventbrite app?
This is a decision on Eventbrite's part. You should be able to access the ticket button using the website instead. If you're still having troubles, feel free to get in touch.