Please join us in a fundraising event to raise money to help care for over 800 animals at Wildlife Friends Foundation Thailand.
About this event
You are invited to join us Sunday June 6th, 2021 at 6:00pm (EDT) for an unforgettable experience to learn about Wildlife Friends Foundation Thailand and all they have done in their 20 years as a wildlife rescue.
Due to the Covid-19 pandemic, WFFT has lost more than 70% of its income due to the closure of borders preventing volunteers, day visitors, and lodge guests from attending. Each volunteer or visitor that stays at WFFT makes an automatic donation to help with the daily costs of running such a large rescue. Funds are becoming sparse and without the help of donations, WFFT may be forced to close their doors permanently. With your help, we can assist with monthly costs hoping WFFT can stay open until tourism begins again and they can start to take in volunteers and guests.
WFFT began 20 years ago with a few primate enclosures, a small kitchen, and four bedrooms. Today it is home to more than 800 animals including elephants, bears, otters, orangutans, gibbons, wild cats, several other monkey species, and more! All of these animals have been rescued from the tourism industry, habitat loss, severe injuries, abuse, or no longer wanted as pets.
During our event we will hear from David, a previous employee at WFFT for several years. During his time there he was the elephant coordinator. He will give us more information on WFFT, their mission, and their vision. David will also tell us about some of the elephants he worked with daily. We will also hear from Nora, co-founder of Animal Experience International. She will discuss ethical travel and how to be aware of animal cruelty while traveling. She will discuss the do's and don'ts to help end animal abuse. We will be sharing a special Thai inspired cocktail recipe that The Blind Owl is creating for you to enjoy during the event!
Every ticket sold will help fund Wildlife Friends Foundation Thailand, help care for the animals there, and help keep their doors open for the future. All funds will go directly to them. This event is being hosted by a third party to raise funds for WFFT. It is not being hosted by WFFT.
How the event will work:
Please purchase the "General Admission" event ticket to take part in the event. If you would like to make an extra donation there are extra donation tickets set up for your choosing. The guests will receive an Eventbrite email with event access in the confirmation email. A reminder email will be sent to guests one week before the event and the day of the event. These emails will also include event access. The day of the event, access the event link through the email, follow the directions to access the Zoom link, and you are all set! If you are unable to attend the event live, it will be recorded and emailed to guests after the event is done to watch whenever!
LET'S KEEP WILDLIFE FRIENDS FOUNDATION THAILAND OPEN TO CONTINUE RESCUING, REHABILITATING, AND SAVING THE LIVES OF FUTURE ANIMALS. Without them, these animals will continue to suffer.
Below is a video from 2019 to show the amazing work WFFT does and what their future plans were if Covid-19 did not have such a negative impact.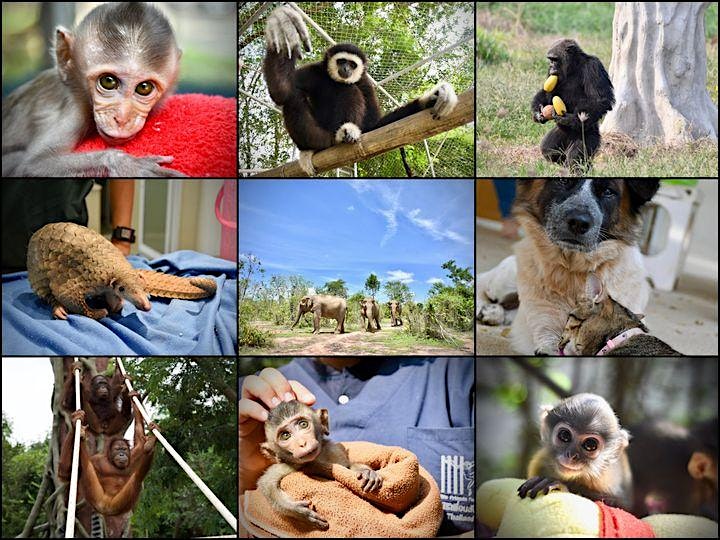 Date and time
Location
Refund policy