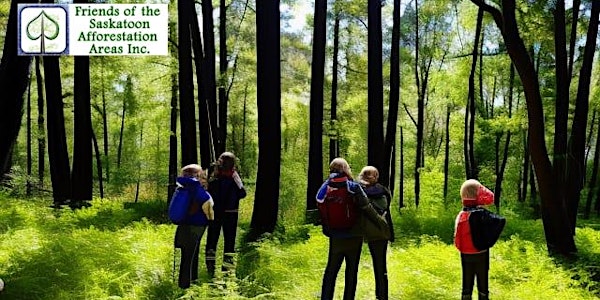 Wildlife Watch: A Nature Discovery Safari
Join the community in recording as many species as possible at Richard St. Barbe Baker Afforestation Area at the City Nature Challenge
By Friends of the Saskatoon Afforestation Areas Inc.
Date and time
Sat, Apr 29, 2023 2:00 PM - 4:00 PM CST
Location
Richard St. Barbe Baker Afforestation Area 241 Township Road 362 Grasswood, SK S7T 1A8 Canada
About this event
Join us for a thrilling bioblitz as we participate in the City Nature Challenge 2023! This exciting international initiative is all about discovering and documenting the diverse organisms that call Saskatoon and the surrounding areas home.
Whether you are a researcher, student, or simply a nature enthusiast, this event is for you. By using the iNaturalist app, you can easily capture and upload photos of any plant, animal, or insect you encounter in your local area. Don't worry if you're not an expert – our team of specialists will be on hand to identify through iNaturalist and verify the species you spot.
This event on Saturday April 29 is at 2:00 pm. for a group gathering in Richard St. Barbe Baker Afforestation Area. Between April 28 and May 1, 2023, we'll be racing against the clock to submit as many observations as possible- you can do this anywhere in Saskatoon and area on your own as well. By participating, you'll be helping us compete for the title of the most biodiverse city, as well as supporting vital conservation research.
But it's not just about the City Nature Challenge competition – it's also a chance to connect with nature and explore the world around us. So come join us, snap some pictures, and help us learn more about the amazing biodiversity that exists in Saskatoon and area.
By coming out to Richard St. Barbe Baker Afforestation Area in Saskatoon, you will help the City of Saskatoon create a master plan the afforestation areas when the time is right
A bioblitz is a collaborative effort of people - scientists, researchers, naturalists, and community members to explore and document the biodiversity of a particular area. During a bioblitz, participants work together to take pictures of as many organisms, insects, lichen, fungi, plant and animal species as possible in a set amount of time. This is achieved through downloading the free iNaturalist app to your smart phone, and using to take pictures of organisms or to record sounds of birds, squirrels and other animals. The goal of a bioblitz is not only to document the species present in the area, but also to raise awareness about the importance of biodiversity and the need for conservation efforts. It is a fun and educational way to connect with nature, learn about the local ecosystem, and contribute to scientific research.
For more information on how to participate, visit FriendsAreas.ca. See you there!
iNaturalist CNC YXE 2023 project page
City Nature Challenge CNC YXE 2023 for hints, tips, and FAQ
Map and Directions to Richard St. Barbe Baker Afforestation Area with GPS for smart phone Google Maps
About the organizer
Your contributions to support our mission are greatly appreciated by residents of Saskatoon and surrounding area who enjoy the forest, these local parks, wetlands and green spaces.
The Friends of the Saskatoon Afforestation Areas Inc. not – for – profit incorporation has five charitable purposes as follows;
1/ To protect the environment for the benefit of the public by conserving or restoring ecosystems and biodiversity on a long-term basis at the Saskatoon Afforestation Areas, which were preserved in perpetuity by City of Saskatoon Council in 1972.
2/ To protect the environment for the benefit of the public by reducing pollution and by cleaning up illegal trash dumping in the Saskatoon Afforestation Areas through addressing land dump sites and monitoring wetlands and greenspaces for instances of illegal dumping
3/ To provide public amenities by maintaining the Saskatoon Afforestation Areas.
4/ To protect and preserve significant heritage sites by ensuring safety, restoring, developing, and maintaining the Saskatoon Afforestation Areas with a view to commemorating the Saskatoon Afforestation Areas and educating the public about it.  Commemorate; honor and respect the past, celebrate the present and provide a legacy for the future.
5/ To receive and maintain a fund or funds and to apply all or part of the principal and income therefrom, from time to time, to qualified donees as defined in subsection 149.1(1) of the Income Tax Act (Canada).
The Friends of the Saskatoon Afforestation Areas Inc. is a not – for – profit incorporation registered with the Information Services Canada (ISC) Saskatchewan, under entity number 102084283.
The initial goals are to increase the safety and preservation of the afforestation areas as outlined here.  
As incorporated entities with an unique identity, Friends are governed by board members; and have customized organizational by-laws and letters patent.  Friends work locally with the City of Saskatoon park superintendent, MVA guidance, and other park liaisons as designated by the park superintendent. In Ontario, there are many, many Friends of the Park organizations, working together collaboratively to achieve mutually beneficial objectives.