Will Bonness - Change of Plans CD Release
About this event
Thursday, May 26th, 2022
(Postponed from Jan 23rd, 2022)
Doors 630 pm | Show 730 pm
Tickets are $20 in advance
Recently named Jazz Artist of the Year at the Western Canada Music Awards, Will Bonness was described as "one of the most important jazz pianists in Canada" by Monk Competition winner Jon Gordon. He has been active on the international jazz scene for two decades. At 17, Will joined Maynard Ferguson's Big Bop Nouveau Band for a world tour, which included performances in Europe, Thailand, and the Caribbean. He has performed at many of the major jazz festivals in Canada and the United States, as well as in the world's most prestigious venues, with such luminaries as Jon Gordon, Avishai Cohen, Quincy Davis, Jimmy Greene, and Derrick Gardner. Locally, he can often be seen performing with the Winnipeg Symphony Orchestra, the Manitoba Chamber Orchestra, and the Winnipeg Jazz Orchestra.
Will has three releases to his credit: Subtle Fire (2009), Halcyon (2016), and Change of Plans (2020). He has appeared as an accompanist on almost 30 albums, many of which have been nominated for or won JUNO and Western Canada Music Awards. Change of Plans has received international critical acclaim and nearly one million streams on Spotify. It will be performed live for the first time on January 23 at the Park Theatre!
instagram.com/willbonness
facebook.com/willbonness
twitter.com/willbonness
youtube.com/willbonness
willbonness.com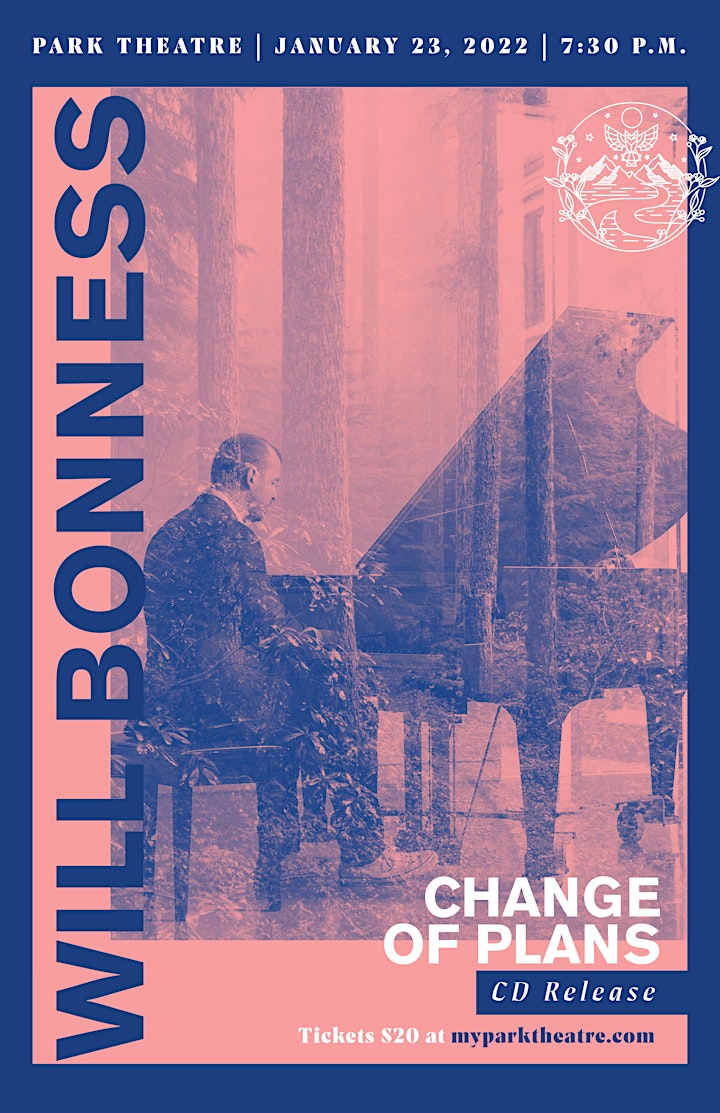 Organizer of Will Bonness - Change of Plans CD Release
The Park Theatre, now in its fifteenth year of operations and has grown into one of Winnipeg's premier live event venues. With over 300 events a year spanning music, comedy, theatre, and film, the room has become home to an expansive community of artists.
In 2014 The Park Theatre was awarded "Venue of the Year" at the Western Canadian Music Award's, after being nominated for the same award in both 2012 and 2013.
The venue itself is a renovated movie theatre that opened in the fall of 1915. While many of Winnipeg's neighbourhood theatres have been demolished or "repurposed" into bowling alleys or retail stores. The Park managed to hold out for 73 years before fate caught up with it. After sitting vacant for nearly a decade it was revived into what is now one of Winnipeg's most popular live music venues.
With its high-quality sound, great atmosphere, two full-service bars, and premier live entertainment from local acts to international touring artists, it's no wonder that artists and audiences alike keep coming back.