Make Will preparation simple! A Will is the single most precious gift that you can leave your loved ones.
About this event
Getting Organized:
Estate Planning & Will Workshop
We will know our birth date...we don't know our dirt date.
A Will is the single most precious gift that you can leave your loved ones.
Have you asked…
*What happens to my estate & children should the unexpected happen to me?
*How much does it cost and how complicated is it to protect my family & assets?
*What is a Will, Living Will, Power of Attorney for Personal Care and POA for Property?
*What's the best way to protect my assets from the Government?
Learn the IMPORTANCE of Estate Planning and don't just depend on the $10 will kits you can get in the stores, you want to ensure you get the right advice to protect you and your family should the unexpected happen, your identity gets compromised or old age eventually nips you in the butt!
Make Will preparation simple!
Date: Tuesday, May 18th
Time: 7:00 PM to 8:00 PM
Place: Livestream on Zoom
Guest Speaker: Amanda Russell - LegalShield
Please reserve your spot as SOON AS POSSIBLE to avoid disappointment!!
Register TODAY!
No cost to attend.
For more information please contact: Amanda Russell @ 416.320.0256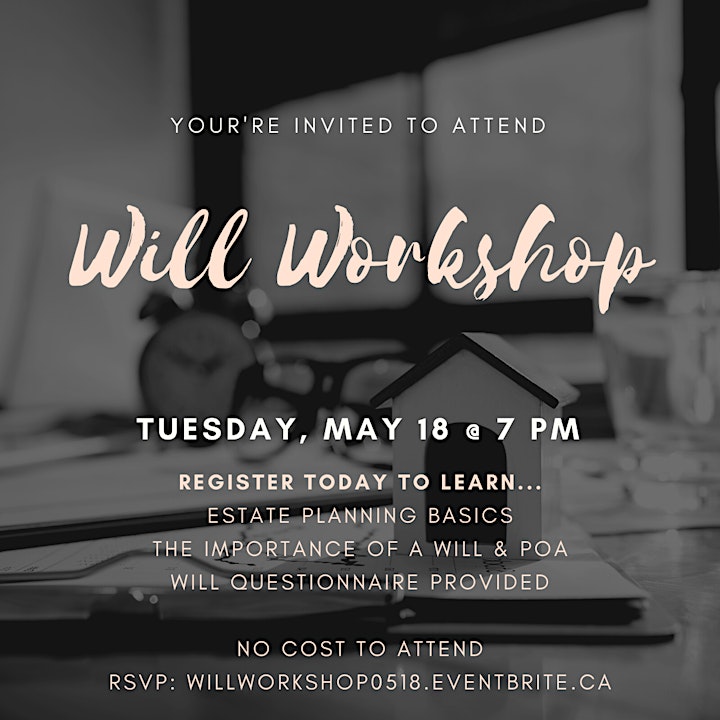 Organizer of WILL WORKSHOP - Estate Planning Basics
Amanda Russell has a 10+ year background in sales, service and event coordination and is focused on helping people dream BIG again by working towards living the life they have always imagined! Through education, training and mentorship we teach people how they can regain their time and freedom to spend doing the things they love with the people they love by building a business that will provide you with financial independence.
Ms. Russell is an Executive Recruiter and also specializes in Group Benefits, Small Business & CDLP.
For more info, please contact her at: amandarussellppl@gmail.com or @cre8timefreedom
or (416) 320.0256
Visit our website: www.helpingpeoplefeelsafe.com